Biggest Floods in Decades Hamper Australia's Vaccine Rollout
Australia's rollout of the Covid-19 vaccine is being hampered by torrential rain and flooding with thousands of residents in parts of Sydney and along the New South Wales coast evacuated as rivers overflow.
The downpour is expected to cause disruptions to freight and logistic services across the state with vaccine deliveries likely to be impacted, Finance Minister Simon Birmingham said on Sky News' Sunday Agenda show.
The severe wet weather is expected to intensify into the middle of the week and comes as the government moves into the next phase of its vaccine program amid criticism for poor organization and a slower-than-expected start to the rollout. General practitioners are due to begin inoculating patients from Monday, with about 6 million Australians eligible.
About 200,000 doses will be delivered to GPs in the coming week, Deputy Chief Medical Officer Michael Kidd said at a briefing Sunday. Some deliveries had been delayed because of the flooding, Kidd said. Australia's drug regulator said it has approved CSL Ltd.'s locally-manufactured AstraZeneca Plc vaccine.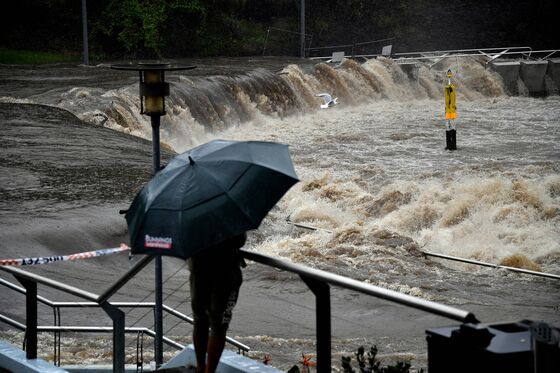 The drenching comes about a year after Australia experienced catastrophic bushfires that burned more than 6 million acres, and wiped out communities.
Western Sydney and the NSW Mid-North coast are bearing the brunt of the relentless downpour that has caused the Warragamba Dam, Sydney's primary source of water, to overflow for the first time in five years, and caused severe damage to property and roads.
Residents in western Sydney are being evacuated, about 200 schools have been closed across the state, and public transport has been disrupted with major flooding expected. Insurers were still assessing the extent of the damage as many communities remained isolated, the Insurance Council of Australia said in a statement Sunday.
Another 4,000 people could be asked to evacuate in parts of Sydney's west, NSW Premier Gladys Berejiklian said Sunday.
"We are now envisaging a one-in-50-years event," Berejiklian said about western Sydney. "The rain we are expected to see in the next few days is beyond anyone's expectations."
"We can't underestimate the ferocity of the extreme weather conditions. We've gone from extreme drought, extreme bushfires to now extreme floods," Berejiklian said.