Stretched Aussie Households Cast Doubt on Central Bank's Outlook
(Bloomberg) -- Australians' reluctance to spend in the midst of a property slump is dragging on economic growth and casting doubt on the central bank's outlook, making the prospect of an interest-rate hike even more distant.
Gross domestic product rose 0.3 percent in the second quarter, the weakest gain in two years and half the pace forecast; the economy grew 2.8 percent from a year earlier against an expected 3.3 percent
In an unusual combination, household consumption slowed and the savings ratio declined, statistics bureau data showed Wednesday
The data are a blow to the Reserve Bank narrative of record-low interest rates fueling economic growth of around 3.5 percent this year and next to drive higher wages. It's now contending with a less robust expansion at a time when house prices are dropping the most since the global financial crisis. That may prompt consumers to further rein in spending, as could a looming election.
"We are now seeing signs that the declines in housing prices over 2018 are impacting activity,'' said Daniel Blake, strategist at Morgan Stanley in Sydney. "The slowing in household spending was driven by a reduction in spending on discretionary items, while growth in spending on essentials remains strong.''
The Australian dollar dropped, buying 72.90 U.S. cents at 3:18 p.m. in Sydney from 73.47 cents before the release. Cash-rate futures are pricing a less than 20 percent chance of a hike next year.
Citigroup economist Josh Williamson said the RBA is likely to revise down its 2019 growth forecast in the next update in February. Shane Oliver at AMP Capital Investors Ltd. scrapped his forecast for a rate increase and now predicts the central bank will cut in the second half of next year.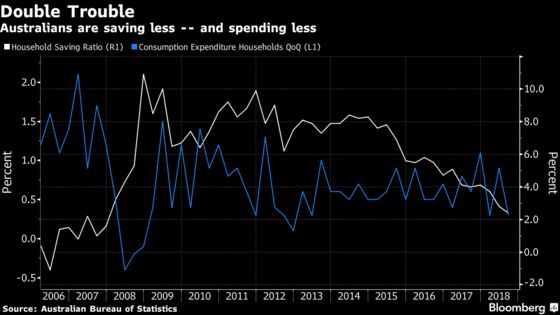 The household savings ratio fell to 2.4 percent from a revised 2.8 percent; household spending growth slowed to 0.3 percent from 0.9 percent the previous quarter
A 3.8 percent drop in non-dwelling construction reflected completion of mining and energy projects
Government spending on roads, bridges and railways has supported the economy; authorities are ramping up infrastructure projects to catch up with an expanding population; high immigration has been another key economic factor
The downside is the projects coincide with the late stages of a housing construction boom as public and private sectors compete for labor -- that's forcing some residential builders to scrap projects due to excessive costs in a weakening property market
What Our Economists Say...
"With household spending and private investment both weak and the external backdrop still challenging, there's no hurry for the central bank to tighten monetary policy. We still don't expect a rate hike for most of 2019."

Tamara Mast Henderson -- Bloomberg Economics 

For more, see our Australia Insight
The RBA has kept interest rates at 1.5 percent for almost 2-1/2 years to spur the economy and lift inflation. It maintains that the next move is likely to be up -- having not hiked since late 2010.
House prices in Sydney are down 9.5 percent since July 2017, on the cusp of overtaking the peak-to-trough decline during the last recession 27 years ago.