Australia's Central Bank Chief 'Sighs' at U.S. Fiscal Discipline
(Bloomberg) -- Central bank chiefs are often reticent to criticize policy settings abroad. Not today: Australia's central bank chief Philip Lowe questioned the wisdom of America's fiscal largess and warned the U.S. will struggle to deploy stimulus in the next downturn.
"The political system in the United States seems to have trouble exercising budget discipline," Lowe told lawmakers during testimony in Sydney Friday.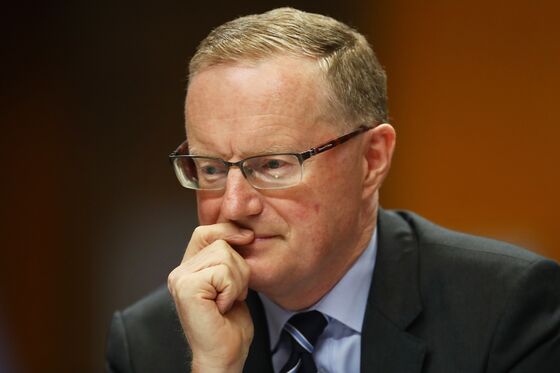 Responding to a question on whether Australia should be more concerned about the spiraling American budget deficit, Lowe said: "you're better off using fiscal policy than extreme monetary policy. But you can only do that if you've behaved yourself in the good times. And my judgment is that the U.S. has not."
U.S. debt sales have already surpassed levels last seen when the country was digging out of its worst economic crisis since the Great Depression. Combined with needing to fund the shortfall, the Treasury has been selling more debt as a result of the Federal Reserve's strategy to slowly let government debt roll off its balance sheet.
Lowe noted the budget deficit is at 4-5 percent of GDP at a time when U.S. unemployment is the lowest since the late 1960s; and the shortfall is projected to stay at that level, suggesting America is "turning a blind eye" to the problem.
"The U.S. is running very close to the edge and its ability to stimulate in the next downturn through fiscal policy is becoming more constrained," the RBA chief said. Asked whether global policy makers should be paying more attention to the problem, Lowe said that at the financial stability board meetings he attends, people note that many countries lack flexibility to respond to a downturn.
"So people do turn their attention to it," he said. "All we can do is look at that and sigh," he added.