Australia's Housing Downturn Deepens as Prices Hit 2016 Levels
(Bloomberg) -- Sydney property values continued to fall in January, driving nationwide house prices back to levels last seen in October 2016, amid tighter lending conditions and high levels of housing supply.
Nationwide home values dropped 1 percent last month, led by a 1.3 percent decline in Sydney and a 1.6 percent slide in Melbourne, according to CoreLogic Inc. data released Friday.
The housing market typically slows down in January, but both Sydney and Melbourne have seen an accelerated decline over the past three months, signaling that 2019 could be another rough year for the property market.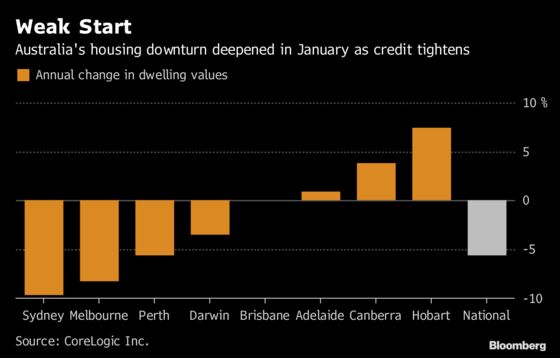 After years of being a sellers' market, power is back in buyers' hands. Houses are taking longer to sell, with total advertised stock levels almost 16 percent higher than last year.
A credit crunch that's been weighing on the market could be exacerbated if the findings from an inquiry into financial industry misconduct to be announced Monday trigger a loan freeze. Prime Minister Scott Morrison today warned Australia's economy faces "serious consequences" should that happen.