Australian Consumer Confidence Rebounds as Infections Contained
(Bloomberg) -- Australia's consumer confidence surged back toward levels recorded before the Covid-19 outbreak hit the economy, boosted by the authorities' success in bringing the coronavirus under control.
The sentiment index advanced 6.3% to 93.7 in June, having recovered all of the extreme 20% drop recorded during the March-April pandemic peak, Westpac Banking Corp. said in a statement Wednesday. The "economy, next 12mths" sub-index gained another 8.4% and the "economy, next 5yrs' sub-index was up 6.4%."
"The index is now only 2% below the average in the preceding September to February period," said Bill Evans, chief economist at Westpac. Still, he noted, "with the unemployment rate set to remain elevated; extensive restrictions staying in place and the economy facing permanent structural change it would be surprising if the recent upward momentum continues."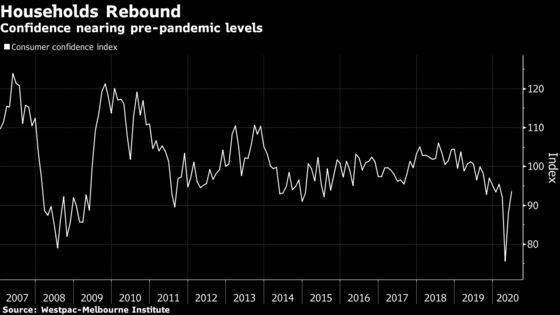 Australia has begun loosening restrictions imposed in March as the government executes a three-stage plan to reopen the economy by the end of July. The nation's eight state and territory governments are moving at their own pace, depending on the number of Covid-19 infections in their jurisdictions.
Meanwhile, the stimulus payments have landed in Australian's bank accounts, suggesting they're ready to accelerate the recovery. Evans noted similar signs.
"The picture from buyer sentiment suggests we may see a significant 'pop higher' in some forms of spending near term," he said, noting the "time to buy a major item" sub-index posted another strong 10.1% gain in June after a 26.7% surge in May.
The survey was based on responses from 1,200 people and conducted in the week from June 1-5.