Australia Holds Key Rate as Housing Downturn Threatens Consumers
(Bloomberg) -- Australia kept interest rates at a record low Tuesday as it gauges the impact of falling property prices on an economy that's otherwise showing strong growth and hiring.
Reserve Bank Governor Philip Lowe left the cash rate at 1.5 percent -- as expected, and as he has since taking the helm in September 2016. House prices are down an annual 6.1 percent in Sydney, the epicenter of the market, and have fallen nationally for the past 12 months. At stake is consumption: whether the decline in relative wealth prompts households to rein in spending.
Policy makers maintain a property cooling is necessary to safeguard financial stability, and the current timing is fortuitous given the economy is growing at more than 3 percent and unemployment is at 5.3 percent. RBA typically tends to avoid raising rates when Sydney prices are falling, which along with weak wage growth and subdued inflation explains why traders are pricing in little chance of a tightening through next year.
"We think that the full effects of tighter credit conditions and falling house prices have yet to be felt," said Marcel Thieliant, senior economist for Australia at Capital Economics Ltd. "That means the labor market will tighten only slowly and inflation won't rise much. Our view is that the bank won't raise interest rates until the second half of 2020."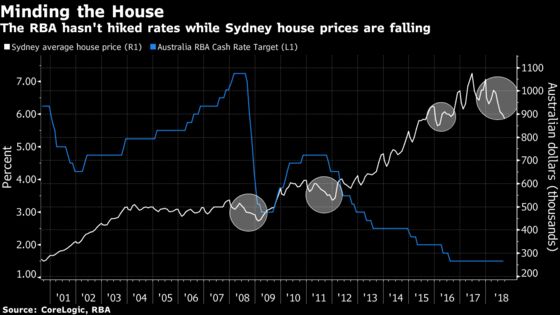 Lowe is concerned about household debt Down Under, which stands at a record 190.5 percent of income and was spurred most recently by a five-year housing boom as borrowers chased prices ever higher. Potentially further weighing on households is an out-of-cycle mortgage-rate hike by three of the nation's big-four banks. Consumption accounts for almost 60 percent of Australia's gross domestic product so any risk to its outlook is significant.
"Conditions in the Sydney and Melbourne housing markets have continued to ease," Lowe said in his statement. "Credit conditions are tighter than they have been for some time, although mortgage rates remain low and there is strong competition for borrowers of high credit quality."
What Our Economists Say...

"We don't expect the central bank to budge on its cash rate target for most, if not all, of 2019. Households will first need to demonstrate resilience to higher borrowing costs. A stabilization -- or reduction -- in household leverage and stronger wage growth would help along those lines."

--Tamara Mast Henderson, Bloomberg Economics

For more, see our Australia Insight
On a more positive note, the Aussie dollar has declined almost 11 percent from its January peak, boosting the competitiveness of exports as well as import-competing industries. The RBA has stood pat as the Federal Reserve tightened policy; it's expected to keep doing so, widening the rate differential between the U.S. and Australia and maintaining pressure on the currency.
The Aussie could come under further fire as the trade war between the world's largest economies intensifies. Australia is the most China-dependent developed economy and would be hit hard by a sharp slowdown in that nation.
The Reserve Bank has now kept its benchmark rate on hold for a record 24 meetings, leaving some economists struggling to offer up new insights.
"We've run out of metaphors for the RBA's inaction," Citigroup's senior economist for Australia Josh Williamson said in a note following Tuesday's decision.