Australia Sees Faster Growth and Fewer Jobless as Key Rate Held
(Bloomberg) -- Australia's central bank raised its economic growth forecast while keeping its key interest rate unchanged, reflecting little signs of a turn up in inflation.
Reserve Bank Governor Philip Lowe said the economy was "performing well" and predicted growth will average 3.5 percent this year and next, while the jobless rate would drop to 4.75 percent in 2020 from its current level of 5 percent. But, Lowe added bluntly, wages growth remained low.
"The path towards the Reserve Bank's first rate hike in eight years remains murky," said Callam Pickering, economist at global jobs website Indeed, who previously worked at the RBA. "Underlying inflation fell short of expectations in the September quarter, having now fallen short of the RBA's target for almost three years, while wage growth remains terribly disappointing. "
Lowe reiterated that as economic growth strengthens and unemployment falls, progress will gradually be made on inflation. But his scenario is at risk from falling property prices, which in Sydney are down almost 10 percent from July last year. That could prompt households to retrench and instead boost their savings in an environment of stagnant incomes.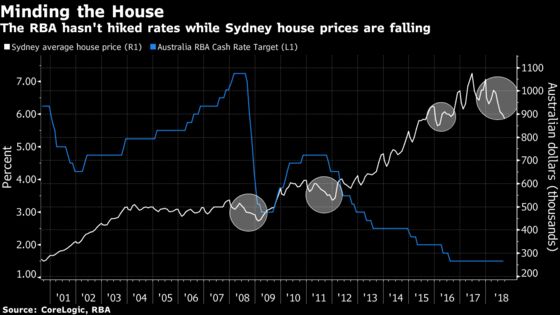 Lowe left the cash rate at a record-low 1.5 percent Tuesday, as he has since taking the helm at the Reserve Bank more than two years ago. The governor repeated that the outlook for household spending remains uncertain and noted that Sydney and Melbourne property prices have continued to ease.
"Growth in credit extended to owner-occupiers has eased but remains robust, while demand by investors has slowed noticeably as the dynamics of the housing market have changed," Lowe said in his statement. "Credit conditions are tighter than they have been for some time."
While the RBA is an inflation-targeting bank, it's also focused on asset prices after a Sydney and Melbourne property bubble helped drive household debt to a record 190.5 percent of income. But while record-low rates are spurring growth and hiring, protracted low inflation remains intact.
On the flip side, the currency's 11 percent decline from its January peak provides some stimulus. The RBA pointed out the "broad-based appreciation" in the U.S. dollar and said the Aussie remains in a range it's traded in for the past two years, though is currently "in the lower part" of that.
What Our Economists Say...
"Soft wage growth constrains spending by households, which are also burdened by record levels of debt, much of which is funded at floating interest rates. This makes private consumption vulnerable to higher borrowing costs. We think the risk of a rate hike remains low as long as wage growth remains below 3 percent year-on-year and debt burdens continue to rise."

-- Tamara Mast Henderson, Bloomberg Economics

For more, see our Australia Insight
From a distance, the Australian economy's numbers are impressive: unemployment has fallen to 5 percent and growth jumped to 3.4 percent; however, based on the U.S. experience, the jobless rate probably has to fall further to drive up wages.
"Further progress in reducing unemployment and having inflation return to target is expected, although this progress is likely to be gradual," Lowe said in the concluding paragraph of his statement.
Offshore, risks are rising: the U.S.-China trade conflict is posing a challenge for the economy Down Under, given it's the most China-dependent in the developed world; moreover, an election is due in Australia by May, and polls show the less-business friendly Labor party is on track for victory.
As a result, traders are pricing in little chance of a rate hike in the next year.