Australia Holds Rate as Currency Drop Offers Export Support
(Bloomberg) -- Australia left its key interest rate unchanged at a record low Tuesday as the currency's recent decline aids the economy by offering exporters some insulation against global trade ructions.
Reserve Bank Governor Philip Lowe kept the cash rate at 1.5 percent, as expected by all economists and where it's stood since August 2016. The Australian dollar this week dropped to its lowest level in more than a year, driven by increasing anxiety that a trade war could send shock waves through commodity markets that the nation depends upon.
"One uncertainty regarding the global outlook stems from the direction of international trade policy in the United States," Lowe said in a statement. "There have also been strains in a few emerging market economies, largely for country-specific reasons."
What Our Economists Say
"Market volatility has picked up, though the RBA's outlook remains unchanged from June. Importantly, progress on inflation is still seen to be gradual with wage growth remaining low for a while yet. We think the RBA will remain on hold well into next year."

-- Tamara Henderson, Bloomberg Economics
The RBA is prepared to be patient, making clear to firms and households it doesn't intend to lift rates until the labor market tightens sufficiently to drive up wages and inflation. While the U.S. economy is motoring and likely to accelerate as tax cuts juice growth, Australia is the most China-dependent developed economy and the prospect of rising protectionism between the world's biggest economies is a serious external threat.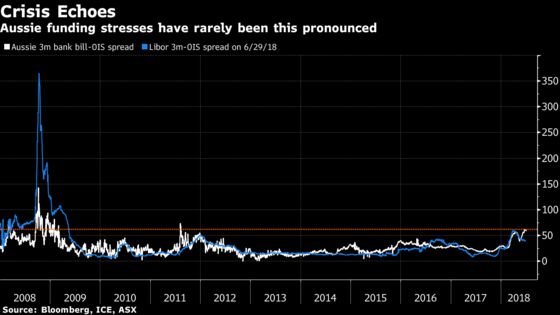 The local dollar was little changed following the decision, trading at 73.39 U.S. cents at 3 p.m. in Sydney. It's fallen 6 percent this year, the worst performer in a group of 10 currencies after the Swedish krona.
"The Australian dollar has depreciated a little, but remains within the range that it has been in over the past two years," Lowe said.
While a lower Aussie dollar supports Australia's open, trade-reliant economy, it would probably need to fall into the 60s for a sustained period to really change the central bank's calculations. Traders are pricing in little chance of a rate move in the next 12 months.
At the same time, the RBA's record stimulus is being eroded as a surge in rates banks pay to borrow from each other is pushing up the cost of credit. The impact could make an unwanted dent in consumer spending.
Slowing credit growth is due to tighter lending conditions from banks to satisfy regulators and better manage risk. This was occurring even before the impact of higher funding costs began to filter into mortgage rates.
"In Australia, short-term wholesale interest rates have increased over recent months," Lowe said. "This is partly due to developments in the United States, but there are other factors at work as well. It remains to be seen the extent to which these factors persist."
Australia's economy marked 27 years without a technical recession over the weekend, underpinned in recent years by powerful population growth and strong export volumes to China. While the key risk at home remains an overpriced east-coast property market where the RBA is aiming to induce a soft landing, the offshore threats seem to be mounting.