Australia Faces Messy Earnings Season as New Outbreak Takes Hold
Australia's largest companies are heading into one of the worst reporting seasons on record amid a pandemic that's sent the economy into its first recession in almost 30 years.
After some initial progress containing the coronavirus, the country is battling a renewed outbreak in its second-largest state that's forced around 5 million people into a six-week lockdown. Australia's budget deficit is set to blow out to a post-World War II record amid a surge in government spending aimed at cushioning the impact of the global health crisis.
Firms have raised around A$20 billion ($14.2 billion) and are set to slash dividend payouts by the most since the global financial crisis as Covid-19 measures eroded corporate balance sheets. They'll also detail the hit from lockdowns, travel restrictions and cautious consumers, and offer clues on what's next on the path to recovery.
"The upcoming August reporting season will be messy, due to the fact that revenues have been impacted over the past four months," said Dermot Ryan, a portfolio manager at AMP Capital Investors Ltd. Still, "the incremental equity investor isn't worried about yesterday's spilt milk and is more interested in future profitability."
Here are five things to keep an eye on as earnings season kicks off:
While parts of the country have unwound some virus rules, a Covid-19 resurgence in Victoria has threated to derail a national recovery. Australia suffered its worst day of infections on Monday, with Victoria recording 532 new cases and warning restrictions may be extended if infections remain high.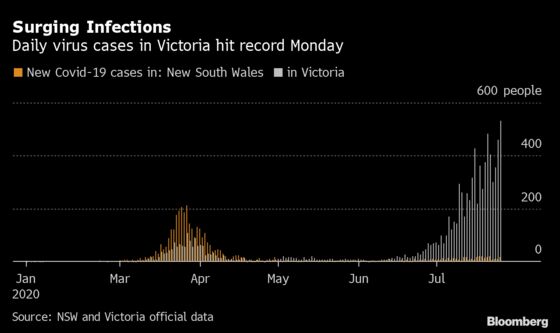 Real estate firms are likely to be squeezed by expected declines in property listings in Victoria, while transport operators like Qantas Airways Ltd. and Transurban Group will be affected by renewed travel restrictions. Using mortgages as a guide, Bendigo & Adelaide Bank Ltd., Australia & New Zealand Banking Group Ltd. and National Australia Bank Ltd. have the biggest exposure among the lenders to the impact of Melbourne's lockdown, according to Goldman Sachs Group Inc.
The government has pledged more stimulus in the wake of the Melbourne outbreak. Prime Minister Scott Morrison vowed a further A$20 billion to support the jobs market by extending its wage subsidy program. The additional payments are positive for stocks tied to the domestic economy, including travel, media and food and beverage sectors, AMP's Ryan said.
Only about half of the normal number of stocks are expected to issue guidance given uncertainty over the virus, Macquarie Group Ltd. analysts said. Forecast earnings for the S&P/ASX 200 Index have fallen about 21% this year, outpacing the 16% cuts seen by MSCI's broadest measure for Asia Pacific stocks, according to data compiled by Bloomberg.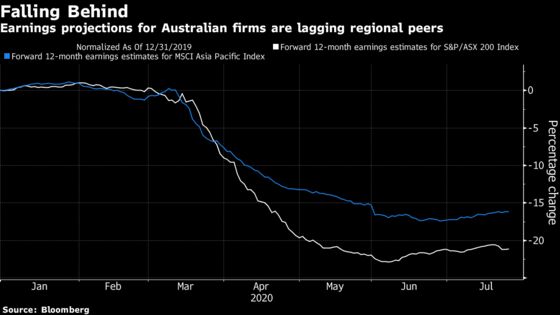 Firms that provide some guidance are likely to be rewarded by investors, according to Morgans Financial Ltd. Companies might also address virus concerns by speaking to the long-term outlook.
Poor financials from last fiscal year "will hold far less meaning this August, with management outlook commentary instead likely to draw intense focus," analysts led by Andrew Tang wrote in a July 20 note. Although the reporting season will be bleak, it represents a "turning point in the cycle."
Investors will be looking for insights into China's reopening as Australia's biggest trading partner has seen some success in bringing infections under control. While the world's second-largest economy returned to growth in the second quarter, economists have cautioned that the rebound could lose steam if other countries can't keep Covid-19 cases down.
Treasury Wine Estates Ltd. this month flagged positive signs on consumption in China amid loosened virus restrictions. Sales to retail accounts from distributors in April and May were up 1% compared with the same period a year ago, after falling more than 50% in February and March.
The winemaker's trading update mentioned a wide range of issues, such as Australia's deadly wildfire season and oversupply problems in the U.S., but didn't include commentary on trade tensions. Australia has sparked China's ire by calling for an investigation into the origins of the coronavirus, while China has criticized that stance and threatened to boycott goods from its trading partner.
The reporting season could offer a glimpse into the potential impact of the trade rift. Australia's iron ore miners are expected stay resilient if tensions escalate, as China "has no other options" to obtain the steel-making ingredient, said Lachlan Davis, who leads IFM Investors Pty's large-cap active equities team.
The S&P/ASX 200 Index has been trading in a narrow range over the past month amid waning market turbulence. The benchmark's VIX Index, a measure of implied volatility, has also fallen below its year-to-date average, according to data compiled by Bloomberg.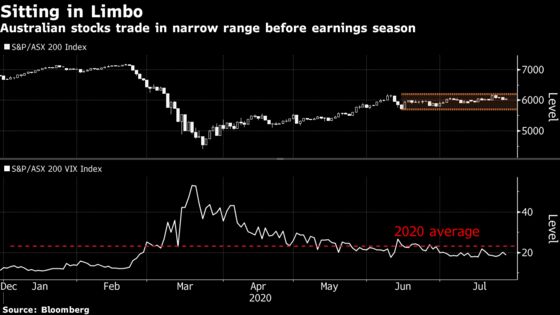 Even being home to Asia's top-performing technology stock hasn't helped the gauge get ahead of regional counterparts. The ASX 200 continues to lag the wider MSCI Asia Pacific Index, despite Afterpay Ltd.'s sizzling surge since March. A light weighting in technology may keep Australia from making the most of the trade that's sparked a global equity rally this year.
Whether the government deploys further policy support may be key to determining where the gauge will end at the end of the year, IFM's Davis said. Additional stimulus would prop up earnings, while a tapering of measures would create a more challenging environment.
Australia's banks and miners, which make up about half of the nation's benchmark, could prove to be bright spots in August.
The country's downturn isn't looking as gloomy as originally expected, and banks are most leveraged to an improving environment, said Paul Xiradis, chief investment officer at Ausbil Investment Management Ltd. Lenders could potentially exceed earnings expectations as debts "may not be nearly as bad as the market has been pricing."
However, a final dividend from Commonwealth Bank of Australia looks "increasingly unlikely" after the nation's prudential regulator urged lenders to show "prudence" on payouts amid economic uncertainty, according to Citigroup Inc. CBA is the only one of the so-called big four banks to report in August.
While shareholder payments are expected to be lower across the market, record-breaking commodity prices have provided scope to issue payouts, said Jessica Amir, a market analyst at Bell Direct Ltd. Iron ore has outperformed this year amid supply disruptions in Brazil and a deficit spurred by record steel output in China, while gold has jumped on increased demand for haven assets.
Citi expects miners' payouts to contribute a third to aggregate dividends for the market, up from a quarter last year. Fortescue Metals Group Ltd. is projected to see the largest payout increase over 2020 out of all stocks on the benchmark, even as overall ASX 200 payments are seen plunging 40%, Bloomberg data shows.