Australian Economy Grew Faster Than Expected on Households
(Bloomberg) -- Australia's economy expanded faster than forecast in the final three months of last year, suggesting better growth momentum heading into the twin hits from wildfires and China's virus-induced shutdown.
Gross domestic product advanced 0.5% from the third quarter, when it rose an upwardly revised 0.6%, statistics bureau data showed in Sydney Wednesday. Economists estimated a 0.4% quarterly gain. From a year earlier, it expanded 2.2%.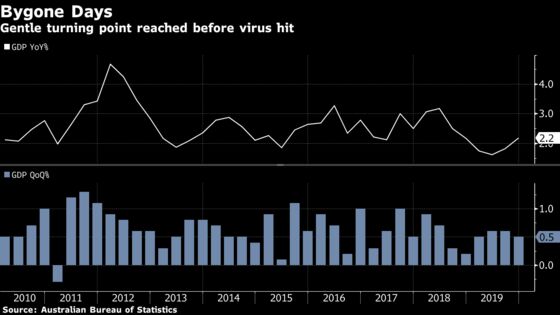 The currency edged higher as the data showed Reserve Bank chief Philip Lowe's "gentle" upswing had come to pass. He cut interest rates three times between June and October, which together with tax rebates encouraged households to dip into their pockets and savings.
Still, this is a snapshot of the economy in the rear-view mirror.
The report comes a day after the RBA kicked off a likely global round of easing when it cut the cash rate to 0.5%, followed about 12 hours later by the Federal Reserve slashing its benchmark by 50 basis points in an emergency meeting. Australia's government is set to announce a fiscal "boost" to support the economy as the two arms of policy work in tandem to insulate against shockwaves caused by the virus.
Other data contained in today's report showed:
Household spending advanced 0.4% and government spending 0.7%, contributing 0.2 and 0.1 percentage points to growth
Dwelling and non-dwelling construction each detracted 0.2 percentage point from GDP
The savings rate eased to 3.6% from 4.8% in the third quarter
Lower commodity prices dragged the terms of trade 5.3% down in the final three months of 2019, resulting in nominal GDP contracting by 0.3%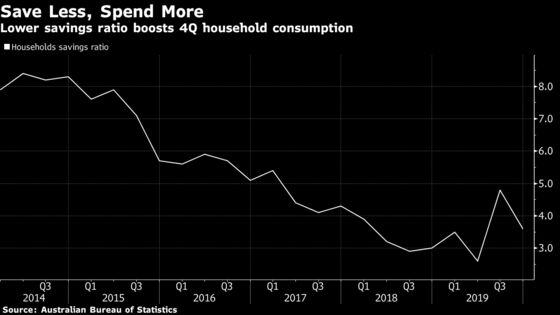 The Australian dollar traded at 65.98 U.S. cents at 1:13 p.m. and traders are pricing in another RBA cut in April as a done deal as it combats the fallout from the coronavirus epidemic.
The outbreak is "having a significant effect on the Australian economy," Lowe said after reducing the cash rate by 25 basis points Tuesday, adding that GDP data for the first three months of this year will reflect this hit.
"The uncertainty that it is creating is also likely to affect domestic spending," he said. "As a result, GDP growth in the March quarter is likely to be noticeably weaker than earlier expected. Given the evolving situation, it is difficult to predict how large and long-lasting the effect will be."
Lowe said that once the virus is contained, the economy "is expected to return to an improving trend." Australia's resource sector is typically a key beneficiary from stimulus in China.
The RBA's cuts last year were designed to boost economic growth and drive down unemployment. Prior to the epidemic, the outlook for mining and business investment was improving and the labor market was still holding up fairly well.
What Bloomberg's Economists Say

"Australia's economy grew at its weakest pace in 28 years in 2019, with public demand propping up an economy that has expanded by only 0.1% over the past 18 months. There were signs that parts of the economy that have been dragging on private demand were staging a recovery over 2H 2019. But the reality is that Australia's 4Q GDP data matters little given what's ahead."

James McIntyre, economist
The currency, the Australian economy's traditional shock absorber, is playing its role, depreciating almost 6% since the start of the year. But it has recovered in recent days and that may persist given the Fed is expected to deliver more rate cuts.