Stocks Rally, Dollar Falls on Dovish Fed Remarks: Markets Wrap
(Bloomberg) -- U.S. stocks advanced with Treasuries, while the dollar retreated after the Federal Reserve signaled continued stimulus to prop up the world's largest economy.
The S&P 500 extended its July rally as the Fed kept rates near zero in a widely anticipated decision, pledging to use all of its tools to support a recovery from the coronavirus pandemic. Chairman Jerome Powell said there are signs the increase in infections is starting to weigh on activity while noting that the path forward for the economy is "extraordinarily uncertain." Investors also sifted through a batch of corporate earnings, with Qualcomm Inc. surging in extended trading on a strong sales forecast.
As the pandemic continues to rage in parts of the U.S., hot spots in Europe and across big emerging economies, governments are having to double down on the $11 trillion dollars worth of stimulus and unprecedented central bank support unleashed since the crisis began. The Fed has kept rates pinned near zero since the outbreak's onset in March and rolled out several emergency lending programs geared toward fostering liquid trading conditions in financial markets.
"The Fed's large, looming presence and ability to act more if needed has provided a backstop for risk assets over the near term," according to Jason Pride, chief investment officer of private wealth at Glenmede. "The focus now shifts to the FOMC's September meeting, when investors might expect more action," he said, referring to the Federal Open Market Committee.
Meanwhile, Scott Minerd, chief investment officer at Guggenheim Partners, said a failure in Washington to agree to another Covid-19 relief package could push unemployment higher, undermining the stock market and forcing the Fed to expand asset purchases.
"We are in a particularly vulnerable time of the year for risk assets," Minerd said Wednesday in an interview on Bloomberg Television. "The markets could get easily rattled."
Some corporate highlights:
Some 19% of S&P 500 companies that have posted results so far have reported per-share profits that beat or missed estimates by 50% or more. That's the highest proportion of companies with surprises of this magnitude since at least 2010, data compiled by Bloomberg Intelligence's Gina Martin Adams and Wendy Soong show.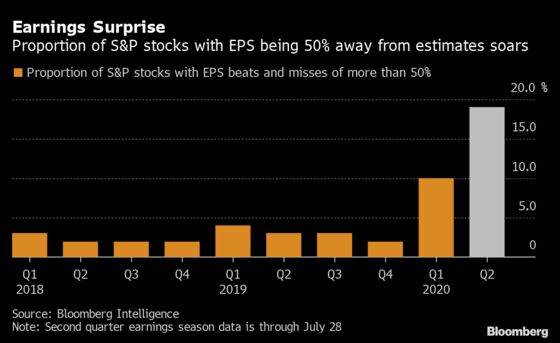 Yet earnings may fail to deliver the kind of support needed to sustain the four-month rally in American stocks any time soon, according to Liz Ann Sonders, Charles Schwab Corp.'s chief investment strategist.
She compared the S&P 500 with its forward earnings, based on projected profit during the next 12 months, in a report Monday. While the S&P 500 made up 85% of the gap between this year's high and low through Tuesday, the profit gauge only rebounded 20%, according to data compiled by Bloomberg. "Earnings will eventually need to do more than just beat an extremely low bar" to justify the surge in share prices, she wrote.
Here are some key events coming up:
Apple Inc., Amazon.com Inc., Alphabet Inc., L'Oreal SA, Credit Suisse Group AG and Samsung Electronics Co. report earnings Thursday; results from Chevron Corp. and Caterpillar Inc. are due Friday.
U.S. second-quarter GDP is expected on Thursday.
China PMI data comes Friday.
These are some of the main moves in markets:
The S&P 500 climbed 1.2% as of 4 p.m. New York time.
The Stoxx Europe 600 Index fell 0.1%.
The MSCI Asia Pacific Index decreased 0.2%.
The Bloomberg Dollar Spot Index dipped 0.3%.
The euro increased 0.5% to $1.178.
The Japanese yen appreciated 0.1% to 105.02 per dollar.
The yield on 10-year Treasuries dipped two basis points to 0.56%.
Germany's 10-year yield climbed one basis point to -0.50%.
Britain's 10-year yield rose one basis point to 0.118%.
The Bloomberg Commodity Index rose 0.7%.
West Texas Intermediate crude climbed 0.6% to $41.29 a barrel.
Gold strengthened 0.5% to $1,967.58 an ounce.