Stocks Post Year's First 3-Day Slide; Dollar Gains: Markets Wrap
(Bloomberg) -- U.S. stocks fell for a third consecutive day for the first time this year as lingering concerns over trade and geopolitical risks offset a report showing the economy cooled by less than expected last quarter. The dollar climbed and Treasury yields increased.
"With this positive momentum, investors are just looking for a little bit of a pause," said Gene Goldman, chief investment officer at Cetera Investment Management. "Now on the docket is what's next? We had some data reports and GDP today, but that's still two month-old data, so investors need some more news."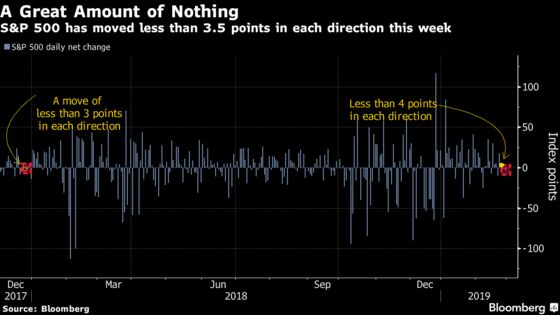 After soaring 18 percent from Christmas to mid-February, the S&P 500 Index has been stuck treading water for the past seven sessions. The gauge did basically nothing the first three days this week, moving less than 3.5 points each day for a total journey of 7.2 points. The last time the gauge did that little over three sessions was 14 months ago.
Equities received brief bumps higher after White House economic adviser Larry Kudlow and Treasury Secretary Steven Mnuchin gave optimistic outlooks on the status of trade negotiations with China. Stocks dropped earlier in Europe and Asia as disappointing manufacturing data out of China and an abrupt end to the U.S.-North Korea summit added to a litany of concerns facing investors.
The 2.6 percent annualized rate of gains in gross domestic product from October to December compared with the 2.2 percent median estimate of economists surveyed by Bloomberg. It followed a 3.4 percent advance in the prior three months, according to a Commerce Department report that was delayed a month by the government shutdown.
"This really helps at least reduce imminent recession fears and is just another indicator that the economy certainly slowed down but it looks less recessionary than just a mid-cycle slowdown at this point," said Jim Paulsen, chief investment strategist at Leuthold Weeden Capital Management in Minneapolis. "And certainly the bond market's initial reaction seems to be that way, with it lifting yields for example."
China's economic worries and the abrupt end to the Hanoi summit, alongside escalating tensions between India and Pakistan add to a growing array of investor worries. The list also includes the trade war and the direction of monetary policy, potentially setting a high bar for further gains in stocks. U.S. Trade Representative Robert Lighthizer dialed back expectations for a sweeping deal with Beijing on Wednesday, putting a damper on hopes for a quick resolution to talks.
Here are some key events coming up:
U.S. personal income and sending data is released Friday.
These are the main moves in markets:
The S&P 500 Index fell 0.3 percent as of 4:03 p.m. New York time, while the Nasdaq Composite Index dropped 0.3 percent and the Dow Jones Industrial Average eased 0.3 percent.
The Stoxx Europe 600 was little changed.
The MSCI Emerging Market Index dropped 1 percent.
The MSCI Asia Pacific Index fell 1 percent, the third straight decline.
The Bloomberg Dollar Spot Index rose 0.1 percent.
The euro rose less than 0.1 percent to $1.1374, while the yen weakened 0.4 percent to 111.46 per dollar.
The British pound weakened 0.4 percent to $1.3262, the first decline in five days.
The MSCI Emerging Markets Currency Index fell 0.2 percent.
The yield on 10-year Treasuries rose four basis points to 2.72 percent.
Germany's 10-year yield climbed four basis points to 0.18 percent.
Britain's 10-year yield rose three basis points to 1.30 percent, the fourth straight daily increase.
West Texas Intermediate rose 0.5 percent to $57.21 a barrel.
Gold fell 0.5 percent to $1,313 an ounce.
The Bloomberg Commodity Index fell 0.3 percent.