S&P 500 Gains as Berkshire Rallies; Dollar Slips: Markets Wrap
(Bloomberg) -- U.S. stocks climbed, with Warren Buffett's Berkshire Hathaway Inc. powering gains in the S&P 500 Index. Treasury yields edged lower.
The U.S. conglomerate rose the most since July after the world's most famous stock-picker revealed he'd been buying back his firm's own shares. Investors were also hunting bargains after last month's downtown and weighing the outlook for Tuesday's midterm elections. Financial and energy shares climbed, while Apple slumped on a report it wouldn't boost iPhone production. Facebook and Amazon also sank. Oil fell for a sixth straight day.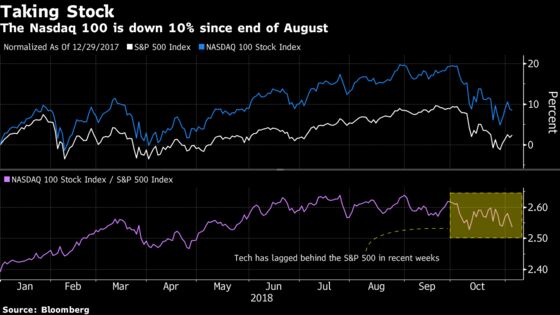 Tech's underperformance continued a trend seen in the past few weeks, with the S&P 500 Index down less than 6 percent since the end of August, compared with drop of almost 10 percent for the Nasdaq 100. For the full year, tech indexes are still faring better.
Politics and central banks loom large in a busy week for global markets. U.S. congressional elections, seen as a referendum on the policies of President Donald Trump, take place Tuesday. Investors also are on alert for any trade developments after White House economic adviser Larry Kudlow last week downplayed the potential for a quick deal between the U.S. and China. Up ahead is the Federal Reserve policy meeting Thursday, when officials are expected to keep the benchmark rate unchanged but give clues for moves into 2019.
"Early this week here, people are trying to resolve some of the uncertainty with this election," said Jerry Braakman, the chief investment officer at Santa Ana, California-based First American Trust. "There's not a great deal of value anywhere in the market, and that's why were seeing increased volatility."
Elsewhere, crude climbed as sanctions on Iran oil snapped back into place Monday. The pound strengthened a third day in four on signs of further progress in Brexit negotiations. Emerging-market currencies and shares fell after stocks in Asia closed mostly lower. The Stoxx Europe 600 Index fell into the red in relatively thin trading.
Terminal users can read our Markets Live blog.
Here are some key events coming up this week:
On Tuesday, U.S. mid-term elections will determine whether Republicans keep control of Congress, and set the stage for Trump's 2020 re-election bid
Reserve Bank of Australia November policy decision Tuesday
Federal Reserve policy makers are expected to leave the main interest rate unchanged Thursday at their penultimate gathering of 2018
Trump plans to meet Russian President Vladimir Putin on the sidelines of Armistice Day celebrations Nov. 11
And these are the main moves in markets:
The S&P 500 Index rose 0.6 percent as of 4 p.m. in New York; the Nasdaq Composite slumped 0.4 percent; the Dow Jones Industrial Average rose 0.8 percent.
The Stoxx Europe 600 Index fell 0.2 percent.
The MSCI Emerging Market Index declined 0.4 percent, the first retreat in a week.
The Bloomberg Dollar Spot Index slipped 0.1 percent.
The euro climbed 0.2 percent to $1.1409.
The Japanese yen was little changed at 113.2 per dollar.
The British pound jumped 0.6 percent to $1.3041.
The MSCI Emerging Markets Currency Index sank 0.1 percent.
The yield on 10-year Treasuries fell one basis point to 3.2 percent.
Germany's 10-year yield was little changed at 0.42 percent.
Britain's 10-year yield rose one basis point to 1.5 percent, its sixth straight increase.
The Bloomberg Commodity Index rose 0.4 percent to the highest in a week.
West Texas Intermediate crude fell 0.5 percent to $62.80 a barrel.
Copper decreased 1.9 percent to $2.755 a pound.
Gold slipped 0.2 percent to $1,231.04 an ounce.