Stocks Surge to Five-Week High; Dollar Weakens: Markets Wrap
(Bloomberg) -- U.S. stocks posted their biggest gain in more than a week amid a late session surge, led by rallies in the energy, materials and industrial sectors. The dollar weakened to an almost five-week low and Treasuries were little changed.
After the close of regular trading, the SPDR S&P 500 ETF Trust (SPY) jumped on news that Moderna Inc.'s Covid-19 vaccine produced antibodies to the coronavirus in all patients tested in an initial safety trial. The S&P 500 climbed as investors weighed earnings season and the economic hit of rising virus cases. Megacap tech shares were initially headed for the first two-day slide since mid-May, before rallying late in the session. Banks were mixed after JPMorgan Chase & Co. reported strong trading results, while Wells Fargo & Co. tumbled after cutting its dividend and reporting its first quarterly loss since 2008.
"We may see this earnings season as one where companies speak honestly and send a slightly different message than, we're never going to look back from the bottom," said Liz Ann Sonders, chief investment strategist at Charles Schwab & Co. "I think it's appropriate that companies are honest even if it's deemed as throwing cold water on the v-shaped narrative."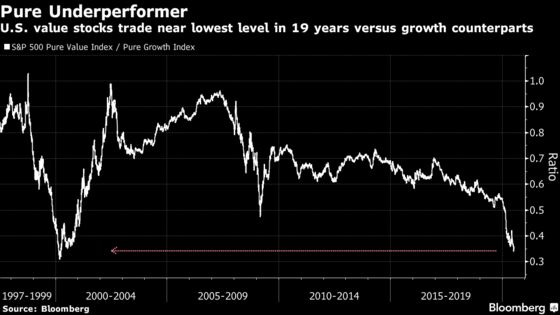 Volatility remained high. U.S. stocks finished in the red yesterday after the S&P 500 briefly touching the highest level since the coronavirus pandemic. Equities have largely treaded water over the past month as worries about new virus cases are offset by optimism over stimulus spending and the economic recovery.
Still as new outbreaks appear around the world, officials are putting stricter measures in place to control the spread. Japan said a new state of emergency is possible and Hong Kong implemented its toughest social distancing measures yet. Florida reported a record number of coronavirus deaths among residents, while Arizona had the most new cases in 11 days.
"It's this tug-of-war between the forward-looking assumption around a vaccine and treatment versus what is happening today as it relates to cases, the mortality rate and, more broadly, the spread," said Matt Miskin, co-chief investment strategist at John Hancock Investment Management.
The U.K.'s two-year bonds yielded less than Japanese debt for the first time. Copper ended a six-day winning streak amid renewed tensions between Beijing and Washington.
In Asia, equities were broadly lower with Chinese and Hong Kong shares faring the worst. The Trump administration rejected China's expansive maritime claims in the South China Sea, reversing a previous policy of not taking sides in such disputes.
Here are some key events coming up:
The EIA crude oil inventory report is due Wednesday.
China releases second-quarter GDP on Thursday as well as key economic indicators for June.
The European Central Bank meets to set monetary policy on Thursday, with President Christine Lagarde holding a virtual press conference afterward.
These are some of the main moves in markets:
Stocks
The S&P 500 Index advanced 1.3% to 3,197.52 as of 4:05 p.m. New York time, the highest in five weeks on the largest gain in more than a week.
The Dow Jones Industrial Average climbed 2.1% to 26,642.59, the highest in almost five weeks on the biggest increase in more than two weeks.
The Nasdaq Composite Index increased 0.9% to 10,488.58.
The MSCI All-Country World Index climbed 0.5% to 543.54, the highest in five weeks.
Currencies
The Bloomberg Dollar Spot Index dipped 0.2% to 1,207.67, the lowest in almost five weeks.
The euro gained 0.4% to $1.1391, the strongest in more than four months.
The Japanese yen was little changed at 107.28 per dollar.
Bonds
The yield on two-year Treasuries gained one basis point to 0.16%, the biggest climb in almost two weeks.
The yield on 10-year Treasuries climbed less than one basis point to 0.62%.
Germany's 10-year yield fell three basis points to -0.45%, the biggest drop in more than a week.
Commodities
West Texas Intermediate crude increased 0.4% to $40.27 a barrel.
Gold strengthened 0.4% to $1,810.03 an ounce, the highest in almost nine years.
Copper sank 0.6% to $2.94 a pound, the first retreat in almost three weeks and the largest decrease in more than four weeks.