U.S. Stocks Fall, Bonds Rise After Jobs Report: Markets Wrap
(Bloomberg) -- U.S. stocks fell from records, while Treasuries rose after the latest jobs report delivered mixed signals on the strength of the economy. The dollar declined versus major currencies.
The S&P 500 dropped for the first time in three days after hiring data fell short of estimates and wage growth was the weakest in more than a year. The benchmark still notched a weekly advance as the situation in the Middle East held a tenuous calm. Boeing Corp. slumped, helping to pull down the Dow Jones Industrial Average.
Treasuries pushed higher as the wage figures erased any inflation worries. Futures traders maintained the amount of easing they expect from the Federal Reserve.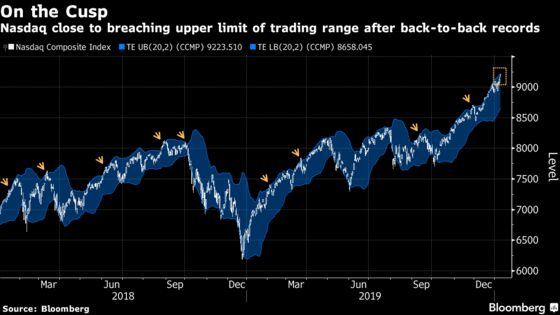 The jobs data ultimately did little to alter investor views on the strength of the economy or the Fed's next step. With stocks near all-time highs, markets continue to look past the flare-up in tensions with Iran and focus on the potential for a pickup in global economic growth.
"This is the opposite of a game-changer. It's very consistent with everyone's views going into this report, the Fed stays on hold and the economy is slowing down," said Nela Richardson, an investment strategist at Edward Jones. "We're consistent on the overall view the Fed stays pat on short-term rates this year. If anything, this report tilts the Fed a little bit towards being more accommodative, not less."
Elsewhere, European shares rose, while bonds in the region advanced. Gold gained, while West Texas oil dropped below $60 a barrel.
These are moves in major markets:
The S&P 500 Index fell 0.3% as of 4 p.m. New York time.
The Dow Jones Industrial Average dropped 0.5%.
The Stoxx Europe 600 Index fell 0.1%.
Germany's DAX Index gained 0.3%.
The Bloomberg Dollar Spot Index fell 0.1%.
The British pound dropped 0.1% at $1.3059.
The euro rose 0.1% at $1.1112.
The Japanese yen was little changed at 109.50 per dollar.
The yield on 10-year Treasuries fell three basis points to 1.82%.
Britain's 10-year yield fell five basis points to 0.773%.
Germany's 10-year yield declined two basis points to -0.198%.
West Texas Intermediate crude dropped 0.9% to $59.05 a barrel.
Gold rose rose 0.4% at $1,560.30 an ounce.