Germany Wins Back Pork Buyers With Deadly Swine Fever Contained
(Bloomberg) -- Several key Asian importers are starting to ease restrictions on German pork purchases six months into the country's African swine fever outbreak, while a deal with leading buyer China has yet to be reached.
A flurry of countries slapped bans on German meat after the country reported its first case of the deadly hog virus in September. That sent pork prices sinking across the European Union, the world's top shipper. More than 700 cases in wild pigs in Germany have since been reported, although the outbreak remains confined to the east and no farms are affected.
Vietnam, previously Germany's fifth-largest market, and Singapore will now accept pork exports from areas in the western European country which aren't affected by the virus, the agriculture ministry said Friday in a statement. South Korea also agreed to resume imports of certain products, as well as South Africa, Brazil and Argentina.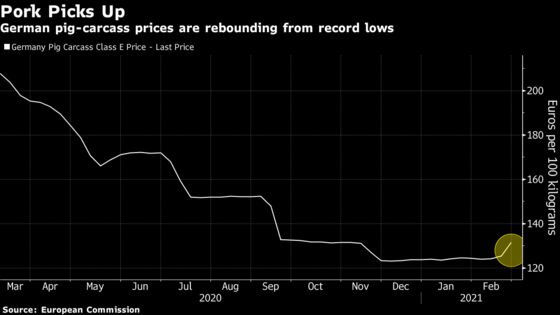 The return of trade outlets could help extend a rebound in German wholesale prices, which have begun to pick up from record lows reached late last year. Still, the ministry said talks are ongoing with China, the world's top importer by far.
"There is now hope in the meat industry that Vietnam could open the door to further markets in the region," German pig association ISN said in a note. "The situation in the pig market is brightening noticeably."