Stocks Rebound as Fed Says No Reason to Rush Rates: Markets Wrap
(Bloomberg) -- U.S. stocks clawed back early losses to trade higher after minutes from the most recent Federal Reserve meeting showed central bankers in no hurry to accelerate the pace of rate hikes even as the economy continues to improve. Yields on 10-year Treasuries briefly dipped below 3 percent, while the dollar climbed.
All major equity benchmarks rose despite escalating geopolitical fears following President Donald Trump's decision to back away from a recently announced trade agreement with China. The dollar climbed as investors got a mixed picture on the health of U.S. consumers from a host of retailer earnings. Tiffany & Co. surged as sales blew away estimates, while Target Corp. tumbled after its profit missed forecasts.
"Although we have a lot of market noise around trade and North Korea and Middle East, the fundamental picture is still bright," said Anthony Saglimbene, global market strategist at Ameriprise Financial. "Earnings are growing, the Fed is still accommodative, inflation levels are still very modest. That is all positive for stock prices over the next six to 12 months."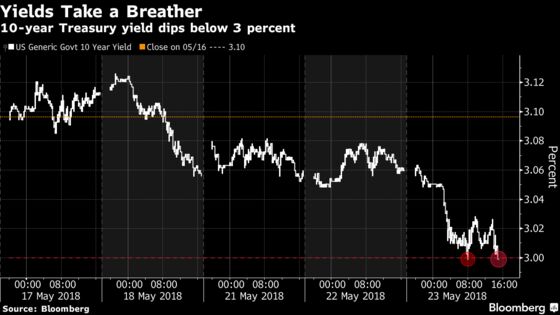 For traders, the monetary policy chatter was a welcome break from the geopolitical back-and-forth. Trump appeared to express pessimism on a planned summit meeting with North Korean leader Kim Jong Un, and the U.S. president kept up his attacks on Special Counsel Robert Mueller's investigation, warning of a "scandal the likes of which this country may never have seen before." Meanwhile, in Italy questions are swirling around the populist government's economic policies.
"We're seeing a bit of a pullback here given some of the geopolitical headlines and tensions you're seeing around the globe," said Francis Gannon, the co-chief investment officer at The Royce Funds, which manages $17 billion. "The market almost was looking for an excuse to take a bit of a breather here, so it's not surprising."
Markets in Europe also tumbled as weak manufacturing data added to concern that growth is slowing in the region. U.K. inflation figures trailed expectations, denting prospects for a rate increase. The Stoxx Europe 600 Index sank the most in two months, the euro fell to a six-month low and the pound weakened. The Turkish lira clawed back from a record low after the government announced an emergency rate hike. The yen jumped as traders sought havens.
Terminal users can read more in Bloomberg's Markets Live blog.
These are some key events to watch this week:
Thursday sees the Bank of England Markets Forum at Bloomberg London. Speakers include BOE Governor Mark Carney and New York Fed President William Dudley.
At the St. Petersburg Forum Friday, Russian President Vladimir Putin and French President Emmanuel Macron, IMF Managing Director Christine Lagarde, and Japan Prime Minister Shinzo Abe participate on a panel moderated by Bloomberg News Editor-in-Chief John Micklethwait.
Also Friday, European Union finance ministers discuss the latest on Brexit talks, in Brussels.
These are the main moves in markets:
The S&P 500 Index rose 0.3 percent to 2,733.25, while the Nasdaq 100 Index gained 0.9 percent.
The Stoxx Europe 600 Index sank 1.1 percent in the biggest tumble in two months.
The MSCI Asia Pacific Index fell 0.4 percent to the lowest in two weeks.
The Bloomberg Dollar Spot Index rose 0.1 percent.
The euro fell 0.6 percent to $1.1704, the weakest in more than six months.
The British pound sank 0.6 percent to $1.3356, the weakest since December.
The Japanese yen jumped 0.7 percent, the most since February, to 110.13 per dollar.
The yield on 10-year Treasuries decreased six basis points to 3.0045 percent.
Germany's 10-year yield dipped five basis points to 0.507 percent.
Britain's 10-year yield fell eight basis points, the most in two months, to 1.439 percent.
West Texas Intermediate crude sank 0.5 percent to $71.76 a barrel.
Gold rose 0.2 percent to $1,293.30 an ounce.
Copper fell 1.9 percent to $3.0605 per pound.