Asian Factories Are Stuck in the Doldrums as Trade War Hits Hard
Manufacturing sentiment across Asia remained gloomy during July as the U.S.-China trade war hurts the region's exports and factories.
Purchasing manager indexes for Japan, South Korea, Malaysia and Taiwan remained below 50, signaling deeper contractions in factory output. Indonesia's gauge slid into negative territory, its lowest reading since December 2017.
South Korea's index registered 47.3 compared with 47.5 in June as new export orders shrank by the fastest rate in almost six years, according to IHS Markit data Thursday. That mirrors official data which showed exports dropped 11% in July from a year earlier, an eighth straight decline.
"There was no respite for South Korean goods producers at the start of the third quarter," Joe Hayes, an economist at IHS Markit said in a release.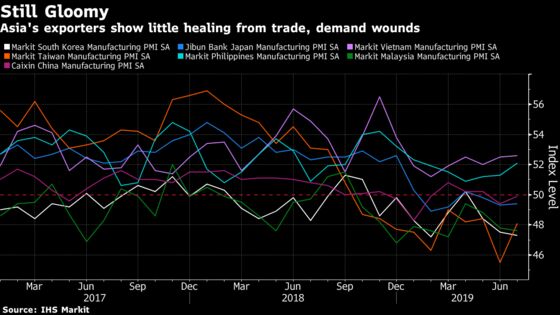 Trade throughout Asia continues to be hammered by the U.S.-China trade war. A fresh round of negotiations ended in Shanghai Wednesday with little signs of progress and both sides plan to meet again in Washington in September.
China's official manufacturing PMI ticked up in July, though remains in negative territory at 49.7. In further signs of a possible bottoming, the private Caixin Media and IHS Markit gauge rose to 49.9 in July from 49.4 in June, according to the release on Thursday.
What Bloomberg's Economists Say

"Indexes across many Asian economies -- on balance -- painted a weaker picture for the region than China, where yesterday's official PMI showed some signs of improvement. Manufacturing PMIs from several countries broadly stayed at weak levels, and one more country -- Indonesia -- fell into contractionary territory."

-- Chang Shu and Qian Wan, Economists
Click here for the full report
The International Monetary Fund last month further reduced its global growth outlook, already the lowest since the financial crisis, and warned about policy "missteps" on trade. The Washington-based fund slashed this year's forecast for growth in global goods and services trade by 0.9 percentage point to 2.5%.
Manufacturing gauges in Vietnam and the Philippines remained positive in July amid supply-chain diversions to Southeast Asia. Vietnamese exports are a standout in the region with shipments climbing 9.3% in July from a year earlier.