Bonds Surge, Stocks Rally After Fed Turns Dovish: Markets Wrap
U.S. stocks rallied for a third day and yields on shorter-maturity Treasuries tumbled after the Federal Reserve struck a dovish tone in its latest policy statement. The dollar weakened against almost all its major peers.
The benchmark S&P 500 pushed within striking distance of an all-time high set April 30, led by gains in the health care, real estate and utilities sectors. The yield on the U.S. two-year note fell by as much as 12 basis points to 1.74% after the central bank kept rates steady and signaled a readiness to cut interest rates for the first time in more than a decade.
"We're definitely hearing a decidedly more dovish Fed," said Mike Loewengart, vice president of investment strategy at E*TRADE Financial. "While you could point the finger at pressure from the White House, it's key to remember that the Fed's focus has always been on two things and two things only: Jobs and inflation."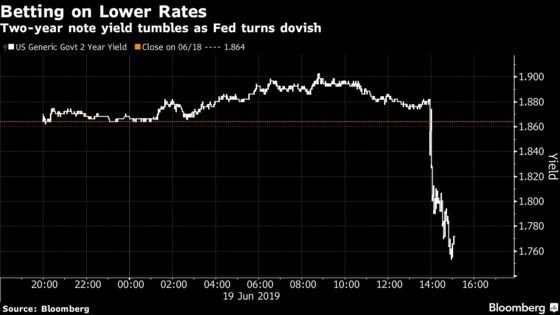 Chairman Jerome Powell and colleagues dropped a reference in their statement to being "patient" on borrowing costs and forecast a larger miss of their 2% inflation target this year. Policy makers kept their key rate in a range of 2.25% to 2.5%.
Bond traders are virtually certain that the Fed will ease policy as soon as next month. The rate implied for the July 31 Fed decision dropped by 7 basis points to about 2.06%. That suggests about 31 basis points of rate cuts by then. The January 2020 fed funds futures contract implies close to 75 basis points of easing by the end of 2019.
As many of the world's biggest central banks signal a shift to easier policy, traders are weighing that against trade war fears and signs of cooling global growth. U.S. President Donald Trump said Tuesday that he had a "very good" phone conversation with Chinese President Xi Jinping. The two leaders will hold an "extended meeting" at the G-20 summit on June 28-29 in Osaka.
"Members of the Fed handed the markets what they were looking for by now predicting rate cuts," said Bryce Doty, senior vice president at Sit Investment Associates. "I can't help feeling that many will see that a precedent has been set: Higher trade tariffs bring rate cuts."
Elsewhere, the peso strengthened versus the greenback late in the trading session after Mexico's Senate ratified a trade deal with U.S. and Canada that will replace Nafta.
These are the main moves in markets:
The S&P 500 Index rose 0.3% as of 4:02 p.m. New York time, while the Nasdaq Composite Index gained 0.4% and the Dow Jones Industrial Average increased 0.2%.
The Stoxx Europe 600 was little changed.
The MSCI Emerging Market Index climbed 1.6%, the biggest increase in more than a week.
The MSCI Asia Pacific Index surged 2%, the highest in six weeks on the largest jump in more than five months.
The Bloomberg Dollar Spot Index declined 0.4%, the most since May 3.
The euro rose 0.3% to $1.1228, while the yen strengthened 0.3% at 108.10 per dollar.
The British pound rose 0.7% to $1.2645, the biggest rise since May.
The MSCI Emerging Markets Currency Index rose 0.5%.
The yield on 10-year Treasuries fell 3 basis points to 2.03%.
Germany's 10-year yield climbed 3 basis points to -0.29%.
West Texas Intermediate rose 0.9% to $54.37 a barrel.
Gold rose 0.4% to $1,352 an ounce.
The Bloomberg Commodity Index dropped 0.6%.