U.S. Stocks Rise, Treasuries Fall Amid Trade Talk: Markets Wrap
(Bloomberg) -- Sign up for China Rising, a new weekly dispatch on where China stands now and where it's going next.
Stocks rose following a report that said some Trump administration officials are pushing for an easing of trade tensions with China. Treasuries declined.
The S&P 500 pushed above its average price for the past 50 days, a level it hadn't breached since December, after the Wall Street Journal cited people close to discussions saying Treasury Secretary Steven Mnuchin is a proponent of easing tariffs. The Treasury denied the report. Shares had advanced earlier in the session after strong data calmed concern that the world's largest economy was in danger of contracting.
The late-session rally was the latest sign that investors consider the monthslong trade war with China a major headwind for the global economy. The S&P 500 has fallen about 5 percent since President Donald Trump and Chinese President Xi Jinping agreed on a 90-day truce that expires in March.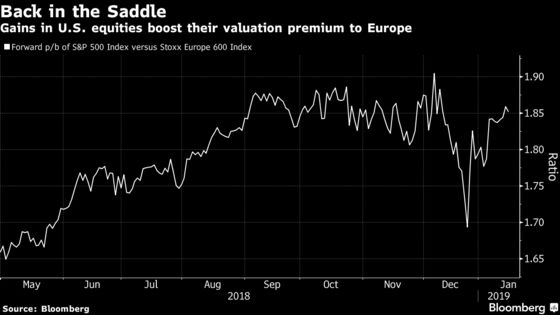 "Certainly evidence that the administration is approaching a deal would be good news. If it is credible, we might have to lower our inflation forecast a little since it embeds more tariffs," said Laura Rosner, senior economist at MacroPolicy Perspectives, in an interview. "We've heard noise around trade policy before though, so I would want to make sure the progress happens and sticks."
Here are some key events coming up:
Earnings season rolls on with Netflix posting results.
Data on U.S. industrial production are due.
These are the main moves in markets:
The S&P 500 Index rose 0.8 percent as of 4 p.m. New York time.
The Stoxx Europe 600 Index rose less than 0.1 percent.
The MSCI Emerging Market Index dipped 0.2 percent.
The Bloomberg Dollar Spot Index was steady.
The euro was little changed at $1.1394.
The Japanese yen fell 0.1 percent to 109.22 per dollar.
The British pound gained 0.7 percent to $1.2980.
The MSCI Emerging Markets Currency Index dipped 0.2 percent.
The yield on 10-year Treasuries rose two basis point to 2.74 percent.
Germany's 10-year yield gained two basis points to 0.24 percent.
Britain's 10-year yield added three basis points to 1.34 percent.
The Bloomberg Commodity Index rose 0.2 percent.
West Texas Intermediate crude was little changed at $52.32 a barrel.
Gold decreased 0.2 percent to $1,291.10 an ounce.