Stocks Fall; Dollar Whipsawed by Trump Fed Comment: Markets Wrap
(Bloomberg) -- The dollar swung between gains and losses and Treasuries strengthened after President Donald Trump criticized the Federal Reserve for raising interest rates. U.S. equities finished lower for the first time in three days as financial shares led declines.
Trump expressed frustration with the central bank in an CNBC interview. The critique follows Fed Chairman Jerome Powell's upbeat assessment this week of the domestic economy. The greenback has rallied for three consecutive days after Powell pledged to continue to tighten policy to keep the domestic economy from overheating, pressuring emerging market assets and commodities.
"The market is already challenging the notion that the Fed can tighten as much as it has been projecting, but even so, it does throw a bit of a monkey wrench into that debate," said Mazen Issa, a senior foreign-exchange strategist at TD in New York. "This is a knee-jerk reaction."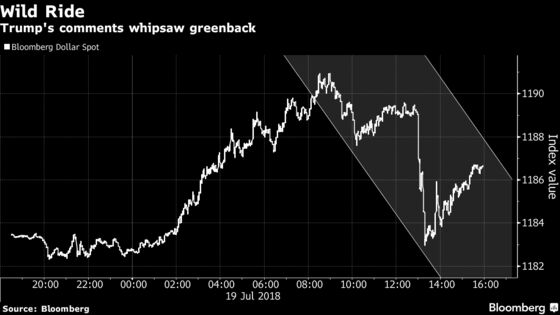 While Powell's comments that the U.S. economy may not yet have reached full employment helped cement investor expectations for the path of monetary tightening, the strengthening dollar has done little to lift the mood elsewhere. The immediate focus in the stock market remains on company results, but trade threats are never far away. China said on Thursday it doesn't want a trade war, but isn't afraid of one.
Commodities tumbled into correction territory earlier Thursday, sliding again in the face of the resurgent dollar and lingering global trade tensions. Among the recent milestones: Copper dipping below $6,000. West Texas Intermediate crude tested $68. Gold crashing through $1,220.
Oil recovered after Saudi Arabia dismissed assertions that it'll oversupply demand as "without basis" and said it "does not try to push oil into the market beyond its customers' needs." Gold briefly rallied after Trump's comments, but finished lower.
These are the main moves in markets:
The S&P 500 Index fell 0.4 percent to 2,804.50 as of 4:03 p.m. in New York.
The Dow Jones Industrial Average eased 0.5 percent to 25,064.50.
The Nasdaq Composite Index slumped 0.4 percent to 7,825.30.
The U.K.'s FTSE 100 Index gained 0.1 percent.
The MSCI Emerging Market Index slumped 0.9 percent.
The Stoxx Europe 600 Index fell 0.2 percent.
The Bloomberg Dollar Spot Index rose 0.3 percent, after rising as much as 0.6 percent.
The euro was little changed at $1.1639.
The British pound dropped 0.5 percent to $1.3007.
The Japanese yen gained 0.3 percent to 112.49 per dollar.
South Africa's rand fell 2.4 percent to 13.59 per dollar.
The yield on 10-year Treasuries fell three basis points to 2.84 percent.
Italian 10-year yields were little changed at 2.51 percent.
Germany's 10-year yield fell one basis point to 0.33 percent.
West Texas Intermediate crude rose 0.9 percent to $69.32 a barrel.
Gold fell 0.4 percent to $1,222.75 an ounce, after reaching the weakest level in more than a year.