U.S. Stocks Fall as Trade, Growth Angst Resurfaces: Markets Wrap
(Bloomberg) -- U.S. stocks fell for a fifth straight day as investors remained on edge over trade, political turmoil and economic growth. Crude halted its longest losing streak on record.
The S&P 500 Index slumped to the lowest in two weeks after a key Democrat raised questions about the revamped Nafta deal and selling in Apple Inc. rekindled worry that megacap tech earnings have peaked. An afternoon respite from the selling sparked by U.K. Prime Minister Theresa May clinching a Brexit deal with her cabinet gave way to a tumble into the close. Goldman Sachs's woes continued, with the bank down 13 percent in four days to the lowest since November 2016.
Treasuries rose with gold as investors sought out havens ahead of comments from Federal Reserve Chairman Jerome Powell at 6 p.m. New York time. West Texas crude climbed above $56 a barrel after plunging for a record 12 straight days. Natural gas surged as unseasonably cold weather threatens the U.S. Northeast. Bitcoin tumbled to the lowest level of the year. PG&E Corp. plummeted as much as 32 percent after the company said it had exhausted its revolving credit lines to deal with wildfires.
"There's a lot of different factors that are weighing on risk assets," said Mark Heppenstall, chief investment officer, Penn Mutual Asset Management. "From individual company concerns, to wildfires in California, to some very odd behavior in the price of oil and natural gas. The other thing is the Fed is probably going to be put to its real first test where the markets may begin to question how wise it is."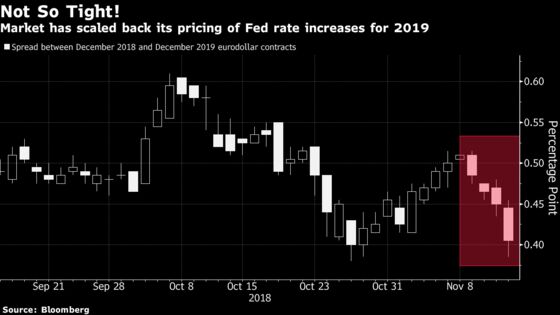 Comments from a key Democrat rekindled concern that the revamped Nafta deal won't end tensions among North American partners at the same time that negotiations with China remain fraught. Trade has weighed on equity markets since the U.S. began slapping tariffs on goods as a key part of the agenda to revamp deals. Markets got a reprieve from the rout in crude, but questions remain about the sharp downturn in the tech sector and the future of interest rates. Brexit and Italian risks linger, and key reports on the crude market are also imminent.
Focus will turn this evening to Federal Reserve Chairman Jerome Powell, with some observers expecting him to calm worries about the central bank pushing its interest rate-hike cycle too far. That comes after the latest read on China's economy, where retail sales missed estimates, though industrial production held up.
In Europe, the Stoxx 600 was dragged down by sectors including mining and energy, though good news for autos helped offset the slide. The pound had weakened after inflation undershot estimates, but trimmed the drop as traders wait to see if Theresa May can persuade colleagues to back her Brexit deal. Italy's 10-year bonds slipped after the government submitted a defiant budget to the European Commission on Tuesday.
Terminal users can read more in our Markets Live blog.
Powell discusses national and global economic issues with Dallas Fed President Robert Kaplan at an event hosted by the Dallas Fed.
Theresa May will ask her divided Cabinet ministers to back her Brexit deal or quit at a meeting on Wednesday.
Policy decisions are coming from central banks in Mexico, Philippines, and Thailand.
These are the main moves in markets:
The S&P 500 fell 0.8 percent at 4:04 p.m. New York time.
The Nasdaq 100 lost 0.8 percent. The Russell 2000 slid 0.8 percent.
The Stoxx Europe 600 Index lost 0.6 percent.
The MSCI Asia Pacific Index dipped 0.2 percent to the lowest in two weeks.
The MSCI Emerging Market Index advanced less than 0.1 percent, the first advance in a week.
The Bloomberg Dollar Spot Index was flat.
The euro gained less than 0.1 percent to $1.1285.
The British pound fell 0.5 percent to $1.291.
The Japanese yen added 0.1 percent to 113.65 per dollar.
The yield on 10-year Treasuries slid three basis points to 3.11 percent.
The two-year rate slipped three basis points to 2.85 percent.
Germany's 10-year yield fell less than one basis point to 0.41 percent.
Britain's 10-year yield dipped two basis points to 1.501 percent.
West Texas Intermediate crude jumped 1 percent to $56.26 a barrel, the first advance in almost three weeks and the largest surge in six weeks.
Gold futures rose 0.8 percent to $1,211.40 an ounce.
Natural gas futures surged 17 percent.