Stocks Claw Back Losses as Geopolitics Fears Cool: Markets Wrap
(Bloomberg) -- U.S. stocks partially rebounded from early declines Thursday sparked by the cancellation of the U.S.-North Korea summit, as investors assessed the broader impact on trade relations and economic growth. Gold posted its biggest gain in a month and Treasuries rose with the yen amid a move to safe-haven assets.
The S&P 500 Index and Dow Jones Industrial Average remained lower despite the bounce-back, while the Nasdaq Composite Index and small cap Russell 2000 Index were essentially unchanged. Transportation stocks led gainers and energy companies paced decliners, as oil weighed on the shares.
The moves followed the release of President Donald Trump's letter to the North Korean leader Kim Jong-Un, in which he blamed the "tremendous anger and open hostility" in recent statements from Pyongyang for his decision. The news heightened concerns that geopolitical turmoil may upend hopes for a global expansion, particularly as a China trade deal looks less likely. On Wednesday, the administration threatened to impose tariffs on imported cars and trucks for "national security" purposes.
"The headline that Trump canceled the talk with North Korea -- we are seeing a lot of these kinds of episodes," said Zhiwei Ren, managing director and portfolio manager with Penn Mutual Asset Management. "Most of the time I just ignore it, because at the end of the day, the U.S. stock market trades with the fundamentals. This is noise. In general, we treat this as noise and hold our current position. My expectation is that I don't think this is going to change our current bullish tone in the market because the economy is doing well and earnings are great."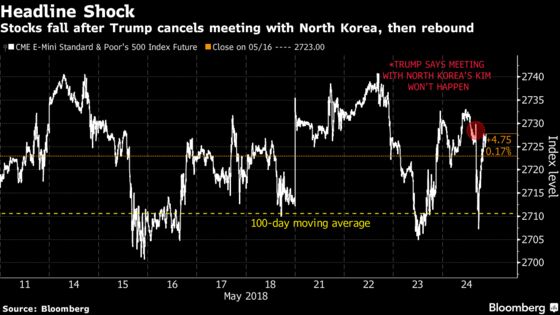 Crude plunged after Russia's energy minister reiterated that OPEC and its partners will discuss phasing out supply curbs when they meet next month. The Stoxx Europe 600 Index gave up an advance as foreign carmakers took a hit while U.S. auto companies gained. Turkey's lira resumed its slump as traders weighed whether an emergency rate hike was enough to stem losses.
It's been a challenging week for investors, who've been forced to navigate escalating geopolitical and trade risks, from Trump's decision to back away from an agreement with China to North Korea warning of a "nuclear-to-nuclear showdown." Questions are swirling around the Italian populist government's economic policies, while Brexit negotiations loom large over British assets.
"Today you had a host of headlines, one having to do with trade and others having to do with North Korea," said Quincy Krosby, the chief market strategist at Prudential Financial Inc. "You see money going into the Treasury market and money going into gold. You would not have gold being a safe haven trade if it was just about trade. That's typically related to geopolitical issues. The question for the market is, are there going to be more headlines like this?"
Meanwhile, emerging-market currencies rose despite the lira move, and developing-nation stocks gained. The euro strengthened after falling to a six-month low.
Terminal users can read more in Bloomberg's Markets Live blog.
These are some key events to watch this week:
At the St. Petersburg Forum Friday, Russian President Vladimir Putin and French President Emmanuel Macron, IMF Managing Director Christine Lagarde, and Japan Prime Minister Shinzo Abe participate on a panel moderated by Bloomberg News Editor-in-Chief John Micklethwait.
Also Friday, European Union finance ministers discuss the latest on Brexit talks, in Brussels.
These are the main moves in markets:
The S&P 500 fell 0.2 percent to 2,727.77, while the Russell 2000 rose less than 0.1 percent.
The Stoxx Europe 600 Index declined 0.5 percent.
The U.K.'s FTSE 100 Index sank 0.9 percent.
The MSCI Emerging Market Index added 0.2 percent.
The MSCI Asia Pacific Index fell 0.1 percent.
The Bloomberg Dollar Spot Index dipped 0.1 percent.
The euro gained 0.2 percent to $1.1723.
The British pound jumped 0.3 percent to $1.3383, the largest climb in more than five weeks.
The Japanese yen advanced 0.7 percent to 109.26 per dollar.
The Turkish lira sank 2.7 percent to 4.701 per dollar, the weakest on record with the largest tumble in almost two years.
The yield on 10-year Treasuries dipped two basis points to 2.9733 percent.
Germany's 10-year yield declined four basis points to 0.472 percent, the lowest since January.
Britain's 10-year yield fell four basis points to 1.401 percent.
West Texas Intermediate crude dipped 1.7 percent to $70.65 a barrel.
Gold advanced 0.9 percent to $1,304.67 an ounce.