U.S. Stocks Rise as Banks Buoy; Treasuries Slide: Markets Wrap
(Bloomberg) -- U.S. equities edged higher and Treasuries declined as investors assessed the latest developments in the varied trade disputes. The dollar fell.
The S&P 500 Index gained for a second day, getting a lift from banking stocks as the 10-year Treasury yield rose toward its highest level of the year, while rate-sensitive utilities weighed. Grocers dropped on a report that said Amazon Inc. is considering opening as many as 3,000 cashierless stores. Shares of Caterpillar Inc. and The Boeing Co. helped push up the Dow Jones Industrial Average after China said it won't devalue its currency.
The dollar fell against most major currencies after a report said the U.S. and Canada are unlikely to reach a deal on Nafta in Washington this week. Emerging-market equities advanced for the fifth time in six sessions as their currencies strengthened. West Texas crude climbed above $71 a barrel.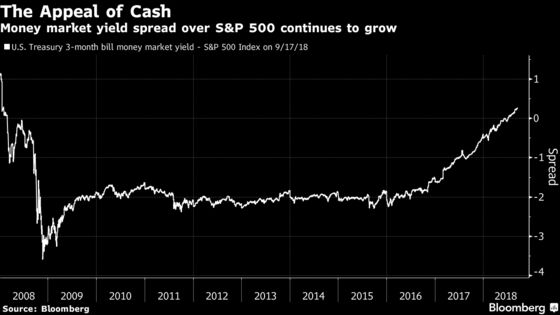 "We continue to ignore concerns over escalation of trade. We knew we'd get this latest round and that China would retaliate," Art Hogan, chief market strategist at B Riley FBR Inc., said. "Right now it feels like an endless round of one-upsmanship and tit-for-tat retaliation. The market is willing to look at this as a brutal negotiation process and not a mutually destructive trade war just yet."
While the threat to global growth remains, investors have had months to form a view on the trade war and stock markets have been signaling an improving sentiment of late: A basket of global shares is rising for the seventh time in eight sessions. But that perspective could be in jeopardy if tariffs have a bigger-than-expected impact on the economy. As the week grinds on, Brexit remains a key item on the agenda as the U.K. and European Union battle against the clock for an accord.
Terminal users can read our Markets Live blog.
Here are some key events coming up this week:
European PMIs are due on Thursday; U.S. PMIs out Friday
The Organization of Petroleum Exporting Countries and its allies meet in Algiers this weekend.
These are the main moves in markets:
The S&P 500 Index rose 0.1 percent to 2,907.95 as of 4:00 p.m. in New York.
The Nasdaq Composite Index fell 0.1 percent.
The Dow Jones industrial gained 0.6 percent, touching the highest since January.
The Russell 2000 Index declined 0.5 percent.
The MSCI World Index of developed countries rose 0.4 percent to the highest in almost three weeks.
The MSCI Emerging Market Index climbed 1.2 percent.
The Bloomberg Dollar Spot Index fell 0.1 percent to the lowest in three weeks.
The euro rose less than 0.1 percent.
The Japanese yen gained 0.1 percent.
The Turkish lira advanced 2.1 percent to 6.2508 per dollar.
South Africa's rand gained 1.8 percent to 14.6485 per dollar.
The MSCI Emerging Markets Currency Index climbed 0.3 percent.
The yield on 10-year Treasuries rose two basis points to 3.08 percent.
Germany's 10-year yield gained less than one basis point to 0.49 percent.
Italy's 10-year yield gained six basis points to 2.852 percent.
The Bloomberg Commodity Index gained 0.8 percent.
West Texas Intermediate crude rose 1.9 percent to $71.15 a barrel, headed for the highest since July.
Gold climbed 0.4 percent to $1,203.15 an ounce.