Asian Stocks Stage Comeback After Two-Day Carnage in U.S. Market
(Bloomberg) -- This time, Asian stock markets aren't taking their cue from the continued rout in U.S. equities.
Shares across the region rose in afternoon trading Friday, with markets in Hong Kong, Taiwan and South Korea gaining at least 1.9 percent. Japanese stocks reversed earlier losses, with the benchmark Topix index edging up 0.1 percent. U.S. index futures also rebounded, with e-mini contracts on the S&P 500 Index jumping 1.3 percent.
Some traders pointed to positive signs on the U.S.-China trade front. The U.S. Treasury Department's staff has advised Secretary Steven Mnuchin that China isn't manipulating the yuan as the Trump administration prepares to issue a closely watched report on foreign currencies, according to two people familiar with the matter. The conclusion, if accepted by Mnuchin, would avert an escalation of the trade war.
Separately, President Donald Trump will meet with Chinese leader Xi Jinping at the G-20 summit in Buenos Aires in late November, the Wall Street Journal reported, citing unidentified officials in both countries. Where Thursday was a day of across-the-board gloom in Asian equity markets, some traders are starting to see some light.
"The overnight chatter does suggest that at a minimum there will be a softer tone on the currency manipulator theme," Stephen Innes, head of trading for Asia Pacific at Oanda Asia Pte., wrote in a note. "This does offer a significant window of opportunity for the not so meek of heart.
To top it all off, China trade data released earlier showed exports rebounded, while imports remained robust, thanks to strong demand at home and abroad despite worsening relations with the U.S.
The MSCI Asia Pacific rose 1.2 percent as of 1:29 p.m. in Hong Kong after sliding 3.4 percent on Thursday.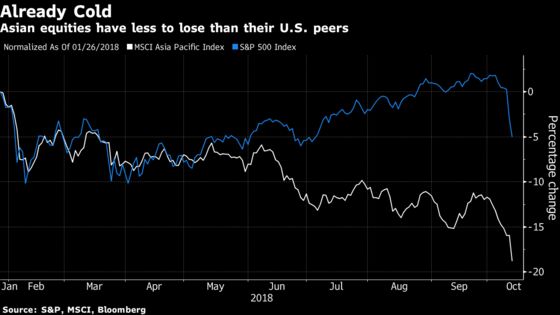 Asian stocks have already been hit hard this year. The regional gauge was closing in on entering a bear market before Friday's rebound, while China's benchmark Shanghai measure is down 21 percent and the Hang Seng Index has lost 14 percent.
"Asian stocks have priced in the U.S.-China conflict since the end of September, earlier than U.S. peers," said Jaehwan Huh, an equity strategist at Eugene Investment & Securities.
Here's what investors and analysts are saying:
Looking for Opportunities
"A correction was overdue, especially in developed markets," said Danny Wong, chief executive officer of Areca Capital Sdn. in Kuala Lumpur. "But a correction without a crisis or a fundamental change ranges from an 8 to 12 percent fall. So it has started looking attractive. There is a technical rebound. Most of the funds are now looking for trading opportunities."
"We remain constructive on Asia," said Felix Lam, fund manager for Asia Pacific equities at BNP Paribas Asset Management in Hong Kong. "The region's fundamentals are overall steady as macroeconomic and earnings growth remain stable, valuations look attractive and the positioning and flow backdrop is supportive."
"We are finally close to a durable buying opportunity in EM/Asia," said Nader Naeimi, head of dynamic markets at AMP Capital Investors Ltd. "But I doubt the U.S. sell-off is over. Hence, my strategy is to accumulate from here rather than going all in at once."
"For what it is worth, advice to U.S. Treasury Secretary Steven Mnuchin on China not having manipulated their currency appears to be removing one source of jitter in the week ahead," said Jingyi Pan, a market strategist at IG Asia Pte.
Deep Bear Market Unlikely
"The current pullback in shares has been triggered by a range of things -– but most notably worries about rising U.S. interest rates and the U.S.-China conflict," said Shane Oliver, head of investment strategy at AMP Capital Investors Ltd. "Shares may still have more downside, but we are of the view that it's just another correction."
"Corrections are normal," Oliver said. "In the absence of recession, a deep bear market is unlikely."