Tech Stocks Clobbered at Close of Tumultuous Week: Markets Wrap
(Bloomberg) -- Tech stocks took another beating Friday, as Twitter followed Facebook in delivering disappointing results and Intel said a key new chip technology wouldn't be out until late next year. The dollar weakened and Treasuries gained.
The Nasdaq Composite Index hit a two-week low thanks to the underwhelming news. Still, the S&P 500 Index was up almost 1 percent on the week, as positive earnings from Amazon and a robust second-quarter U.S. GDP figure buoyed some sectors. There could be more turbulence next week, with companies including Tesla set to report.
"The upside is harder than the downside. If you miss, you get nailed," Joseph Kinahan, the chief market strategist at TD Ameritrade, said by phone. "The thing is, so many companies are hitting, all economic numbers are coming in really good, and I think that's why you're seeing the market perform so well."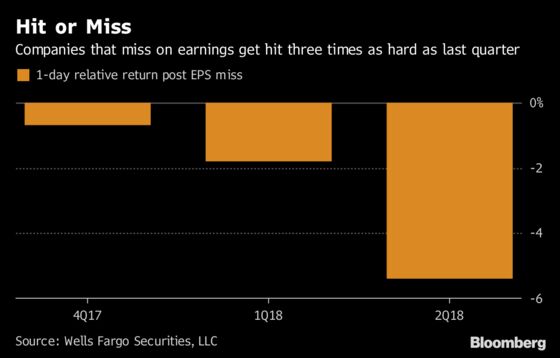 The Stoxx Europe 600 Index headed for its best week since March as banks and telecommunications firms gained. West Texas intermediate crude dropped.
The GDP data underscored the Federal Reserve's policy path at a time when investors' focus is returning to central banks. In Japan, reports suggested BOJ officials are debating ways to reduce the side-effects of their yield-curve control policy. The European Central Bank said Thursday that it will stick to its plan to end bond purchases and pledged to keep interest rates unchanged "at least through the summer of 2019."
Terminal users can follow our Markets Live blog here.
These are the main moves in markets:
The S&P 500 Index fell 0.7 percent as of 4:01 p.m. New York time.
The Stoxx Europe 600 Index climbed 0.4 percent to the highest in almost six weeks.
The U.K.'s FTSE 100 Index jumped 0.5 percent.
The MSCI Emerging Market Index increased 0.3 percent to the highest in five weeks.
The Bloomberg Dollar Spot Index fell 0.2 percent.
The euro advanced 0.1 percent to $1.1659.
The British pound gained less than 0.05 percent $1.3111.
The Japanese yen advanced 0.2 percent to 110.99 per dollar.
The yield on 10-year Treasuries fell two basis points to 2.96 percent.
Germany's 10-year yield declined less than one basis point to 0.40 percent.
Britain's 10-year yield advanced less than one basis point to 1.28 percent.
West Texas Intermediate crude fell 1.1 percent to $68.87 a barrel.
LME copper gained 0.1 percent to $6,297.00 a metric ton.
Gold advanced 0.15 percent to $1,223.41 an ounce.