Asia's World-Beating Stock Rally Has Bulls Betting on More Gains
(Bloomberg) -- Asian stocks have outperformed peers in the U.S. and Europe recently, bolstered by optimism toward China's recovery and a sense that parts of the region have so far managed to keep a lid on the coronavirus pandemic.
The MSCI Asia Pacific Index has climbed about 9% since the end of May through last week, compared with roughly 6% gains by both the S&P 500 Index and the Stoxx Europe 600. Tech stocks in Greater China have helped drive the advance in the Asian benchmark, with Tencent Holdings Ltd., Alibaba Group Holding Ltd. and Taiwan Semiconductor Manufacturing Co. accounting for almost a third of the index's increase.
The rebound in Asia has been helped by a perception that governments in the region have done a better job in containing the virus, particularly in China, South Korea and Taiwan -- although questions remain about the scale of testing in Southeast Asia. A bubble in Chinese equities helped swell inflows toward the region, while some investors are betting that Asia will be a haven during potential volatility during the U.S. presidential elections later this year, despite the risk of escalating tensions between Washington and Beijing.
"We have a heavy bias toward Asian equities," said Sebastien Galy, senior macro strategist at Nordea Investment Funds SA, which oversees the equivalent of $255 billion in assets. "We expect this theme to prove resilient to what should eventually be a much more difficult time in equity markets in September and October."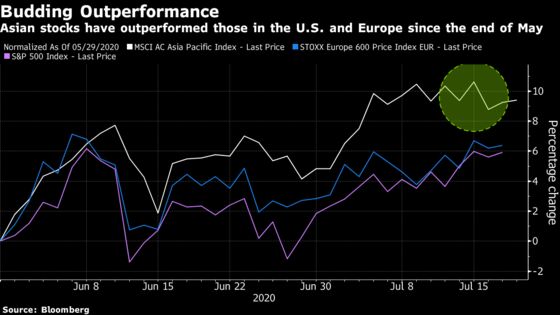 Virus cases in the region -- the focal point when the pandemic originated in China -- have been below 20% of the global count since world equity markets hit 2020 lows in March, data compiled by Bloomberg and Johns Hopkins University show.
Such confidence may be tested by a resurgence of cases in parts of Asia which had previously limited the spread of the deadly disease. Both Hong Kong and Tokyo have seen record coronavirus cases in recent days, while residents in Melbourne were told to wear masks as Victoria state reported another 275 cases. Meanwhile, India's cases have exceeded 1 million, becoming the third country in the world to cross that tally.
While most of the Asian economies have reopened between 70-95%, that run rate for most of the U.S. stands at 45-60% as of last month, according to Cushman & Wakefield's global economic reopening tracker, which takes into account factors such as essential services, borders, schools, retail and manufacturing.
"Asia and in particular countries like China, South Korea, Taiwan have controlled the virus quite well and we are seeing economic activities picking up quite fast," according to Tuan Huynh, chief investment officer for Europe and Asia at Deutsche Bank Wealth Management.
Investors also cite a recovery in China's economy as reason to be bullish on Asian equities. China's gross domestic product expanded 3.2% in the second quarter from a year ago, data showed Thursday, reversing a decline in the first quarter and beating forecast.
The economic rebound will spread all around Asia Pacific with a lag of a few months, said Galy of Nordea Investment.
Advocates of investing in Asian shares also cite better valuations.
"Asian equity valuations are attractive in the context of the long-term growth opportunities and a potential rebound in earnings next year," said Sumit Mangal, a fund manager for Asia ex-Japan equities at Goldman Sachs Asset Management. "We could see a strong recovery in demand."
Bloomberg-compiled data on the estimated return on equity show that Asian company valuations are way cheaper than their U.S. and European peers even as the efficiency of Asian companies to generate profits using their assets remains in double digits.
The MSCI Asia Pacific Index has rebounded more than 35% from its March low. Still, the gauge can rise about 10% over the next one year, according to price forecasts by analysts surveyed by Bloomberg. That's set to outpace the roughly 5% advance predicted for U.S. and European stocks.
The gauge was little changed on Monday as investors weighed potential for additional policy support and a ramp up in the earnings season.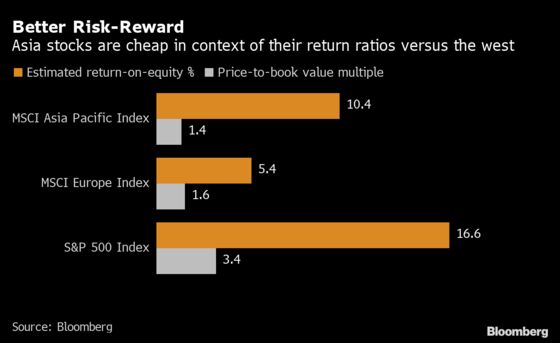 While the pandemic remains a challenge, investors globally are also starting to factor in risks related to the U.S. presidential election as recent polls show President Donald Trump trailing Democratic nominee Joe Biden. Goldman Sachs Group Inc. analysts have flagged the potential for earnings-depressing tax hikes should Democrats do well in November.
Expectations that Democrats will win the U.S. election will keep a lid on stocks in the U.S. and Europe, while Asian equities remain insulated from that risk, according to John Vail, chief global strategist at Nikko Asset Management Co. in Tokyo.
"Europe also has some correlation with the U.S. stock market," he said. "We are strongly preferring Asia ex-Japan to the rest of the world."
Equities in Asia excluding Japan have outperformed the U.S. heading into elections in three of the four previous cycles, with an average outperformance of about 6% in four months until the polls, according to Nomura Holdings Inc.