Asia's Vulnerability to U.S. Car Tariffs in Five Easy Pieces
(Bloomberg) -- Japan and South Korea are pushing back against the risk of U.S. restrictions on auto imports, with both governments and their biggest carmakers warning of damage to the industry on both sides of the Pacific.
Japan shipped almost $50 billion of autos and auto parts to the U.S. in 2017, while Korea exported more than $20 billion, according to the two governments. Meanwhile, Japanese companies make as many as 3.8 million cars each year in the U.S. while Korea's Hyundai Motor Co. says it's invested almost $8.3 billion there.
Here are five charts that show what's at stake for the Asia carmakers if President Donald Trump was to slap a 25 percent tariff on imported vehicles.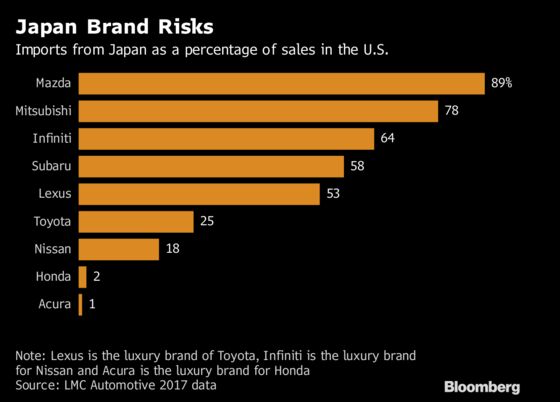 While companies like Toyota Motor Corp. and Nissan Motor Co. have set up vast production facilities in the U.S. that run parallel with their exports, manufacturers like Mazda Motor Corp. and Subaru Corp. are still highly dependent on sales of cars shipped from Japan.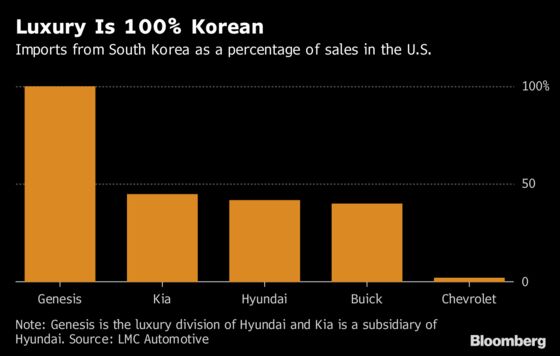 Among Korean brands, major producers for the mass market like Hyundai and its subsidiary Kia Motors Corp. are less exposed to tariffs. But the luxury division Genesis Motors depends entirely on exports from Korea.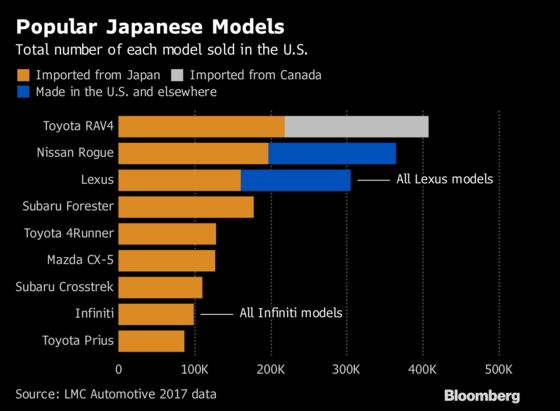 Toyota and Nissan have set up factories in states ranging from Kentucky and Indiana to Tennessee and Mississippi, blunting the full impact of potential tariffs. But U.S. sales of some well-known models, like Toyota's hybrid Prius, are entirely imported to the U.S.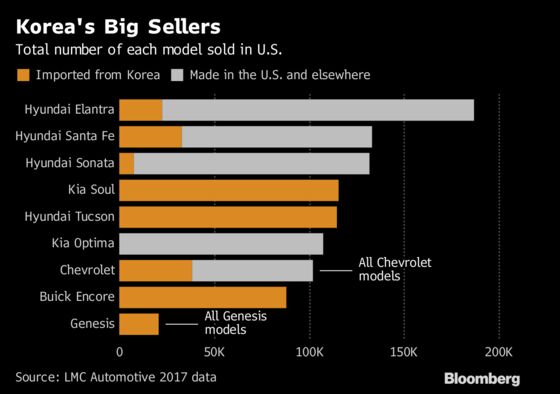 Just like the Japanese manufacturers, Korean automakers have set up large facilities in the U.S., while also still shipping a lot of vehicles from factories at home. The picture varies significantly by model, as it does for the Japanese, and some vehicles from both Kia and Hyundai would feel a squeeze from tariffs.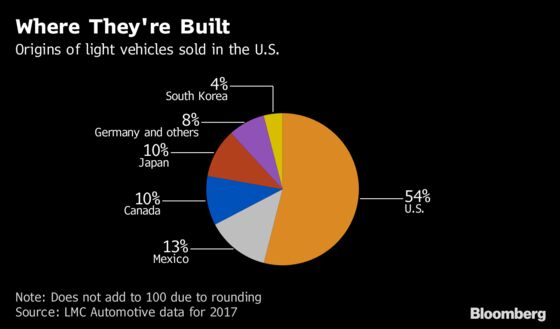 For the Asian automakers, there's also a lot of risk from changes to the North American Free Trade Agreement. Toyota has made large investments in Canada and both Japanese and Korean carmakers have large factories in Mexico to serve the U.S. market.