Asia's Rise After 2008 Made World Less Unequal, New Study Finds
(Bloomberg) -- The world economy became less unequal in the years after 2008 as Asia's rising powers closed the gap with a crisis-hit West, according to new research by one of the pioneering scholars of global income distribution.

The paper by Branko Milanovic, a professor at the City University of New York and former World Bank economist, is a follow-up to his study of the years 1988-2008, when the world's richest were raking it in. That was captured in what became known as the "elephant chart," whose elevated trunk represented the rapid gains of the global 1%.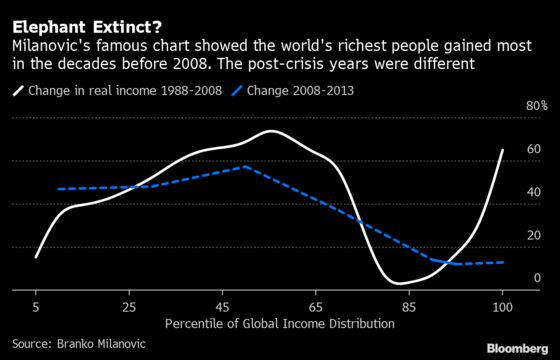 In the five years after the financial crisis, the pattern looks different. There was "a perceptible slowdown in the growth of highest incomes," Milanovic writes. "The global financial crisis that hit the rich countries much more than the rest of the world is the main reason."

While the Western economies where most of the world's richest 1% live were struggling, Asia -– the most populous region, and home to the biggest chunk of the "global middle class" –- posted significantly faster growth to close the gap.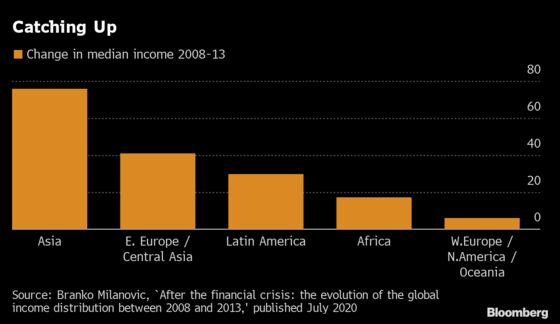 China's better-than-average performance accounts for almost half the decline in the world's Gini index, a standard measure of inequality, in the period, according to the paper.

By comparison with the decline in inequality between countries, there wasn't a significant change in disparities within countries, it said.

Milanovic's work is only able to capture the world economy with a lag, because he relies on hundreds of national and international data-sets that often don't arrive for years. In the paper's conclusion, he writes that it's too early to judge the impact of the coronavirus slump on global inequality.

"Forces unleased by the pandemic seem to be arrayed against further convergence of incomes among people and among countries of the world," he writes. "This however may be a somewhat pessimistic conclusion based on the first-round effects."