Asia's Best Bond Performer Korea Stumbling as Economy Cools
(Bloomberg) -- South Korea's dollar bonds are likely to be dethroned in 2019 after posting the best returns in Asia last year.
A weakening economy is reducing the appeal of the nation's notes, as the U.S.-China trade war and a softening of global demand hurt Korean exports, investors say. The government has predicted that economic growth this year will be the slowest since 2012.
A revival of risk appetite in the market may also weigh on demand for Korean notes, according to investors. South Korea, though an emerging market and neighbored by Kim Jong Un's regime, has some of the highest credit ratings in Asia and its politics and economy are considered relatively stable. Its debt has therefore been seen as a safe haven during recent global market turmoil.
In 2018, U.S. currency notes from Korean corporate issuers returned 1.7 percent, one of the few winners in Asia in a year when dollar debt from China, India and Indonesia all suffered losses.
"Korean dollar bonds are unlikely to repeat last year's strong performance in 2019," said Arthur Lau, head of Asia ex-Japan fixed income and co-head of EM fixed-income at PineBridge Investments. "Credit spreads on Korean dollar bonds are very tight and the economy continues to decline as corporate earnings and consumption are quite weak in Korea now."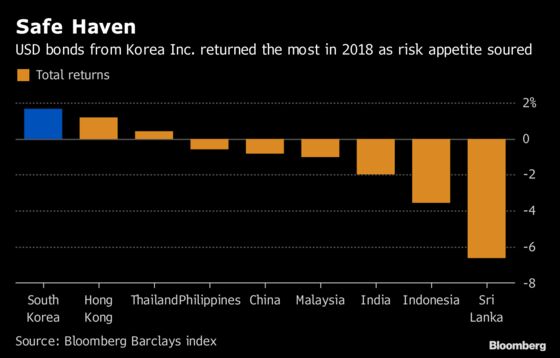 Korean notes may also see less demand from domestic investors because rising currency hedging costs for dollar debt are set to become a "significant hurdle," Hong Kong-based Lau said.
Bank of Korea Governor Lee Ju-yeol said Thursday that it's not time to discuss an interest-rate cut, after the central bank kept monetary policy unchanged and trimmed its economic growth and inflation forecasts for this year.
Here are some thoughts from investors.
There may not be a clear winner for the full year 2019 as we think the market is likely to remain volatile, especially in view of Fed interest-rate policy and a slowdown in China.
At the moment, we think there are more opportunities in Indonesia given a more stable economic backdrop compared with last year and as the uncertainty surrounding the election has subsided.
Karan Talwar, senior investment specialist for emerging-market debt at BNP Paribas Asset Management:
Looking ahead to 2019, we think there are better investment opportunities available in the Asian dollar bond space. In Korea, tighter starting spread levels provide less upside potential and less cushion to be able to absorb higher U.S. Treasury bond yields from a total-return standpoint.
In addition, the economy remains somewhat susceptible to any adverse developments around ongoing U.S.-China trade negotiations as well as to a potential slowdown in the technology/semiconductor business cycle.
Among Korean sector picks, we like the Tier 2 subordinated bonds issued by Korean banks with strong balance sheets, as they currently provide an attractive rating-adjusted premium over comparable Asian peers.
On China, we like selected high-yield China real estate issuers that have strong cash flows and improving leverage metrics, which should provide a robust cushion against slowing property prices this year.