Currency Roadblock Seen by Top Asia Forecaster as Tariffs Loom
(Bloomberg) -- The mini trade deal reached between China and the U.S. earlier this month won't be enough to sustain the rebound in Asian currencies from a 10-year low, according to the region's top forecaster.
"The tariffs are a big hindrance," said Frances Cheung, the Singapore-based head of Asian macro strategy at Westpac Banking Corp., which has topped Bloomberg's ranking for Asia ex-Japan currencies for four straight quarters. "The China stance has always been that some tariffs have to be done away in order for them to sign a deal. But Trump is using these tariffs as a bargaining chip."
The world's two biggest economies agreed, in principle, the first part of a larger trade deal. The initial deal is expected to be signed in mid-November at an Asia-Pacific Economic Cooperation summit in Chile. That's helped a gauge of Asia ex-Japan currencies advance almost 2% after falling to a 10-year low in early September.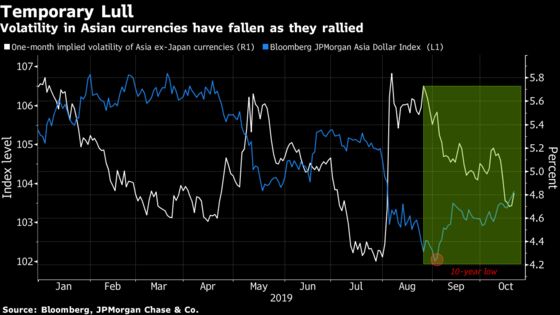 While the truce marked the biggest breakthrough in the 18-month trade fight, some of the prickliest disputes -- such as U.S. accusations of intellectual-property theft and industrial subsidies -- remain. Existing tariffs have not been removed and additional American duties on $160 billion of Chinese goods are scheduled to kick in on Dec. 15, putting its economy even more at risk of sub-6% growth.
"The sequential timing of the tariffs is something they cannot agree on," Cheung said in an interview. "That is one main obstacle, let alone other structural issues."
Below are more of Cheung's comments. Scroll to the table at the bottom for changes to her year-end forecasts.
The yuan will probably weaken to 7.3 per dollar by the end of 2019

The People's Bank of China will continue to loosen monetary policy to support growth; it will probably cut reserve requirements another 50 basis points this year and lower loan prime rates

The South Korean won, already the biggest loser among emerging Asian currencies this year, could depreciate by another 4.9% by the end of 2019

It is "very volatile" and vulnerable to the trade war

Taiwan's dollar will find it difficult to sustain its recent rebound as a stronger currency hurts its exports

It could decline more than 3% by end-2019

The Malaysian ringgit will be among the most resilient Asian currencies as economic growth remains sound, with Cheung expecting it to fall less than 1% by the end of December
Westpac sees the dollar remaining firm even as the Federal Reserve continues to cut rates, partly because economic growth in other developed economies remains low; the bank forecasts two more U.S. rate cuts in 2019 and another two next year
| Currency | Latest | July | Spot price |
| --- | --- | --- | --- |
| Chinese yuan | 7.3 | 6.9 | 7.0807 |
| South Korean won | 1,230 | 1,180 | 1170.00 |
| Taiwan dollar | 31.6 | 31.4 | 30.594 |
| Malaysian ringgit | 4.22 | 4.15 | 4.1888 |
NOTE: Spot price as of 10:39 a.m. in London on Tuesday.