Stock Rout Is Now So Severe Even Gold Hurts as Margin Calls Seen
(Bloomberg) -- Gold's performed well in February as the risk-off mood swept markets, but its rally hit a wall this week despite the brutal rout in global equities driven by the coronavirus crisis. Standard Chartered Bank says that may come down to investors selling the metal to cover margin calls.
While bullion has rallied amid both risk-on and risk-off episodes, it could suffer from further profit-taking as it's used to meet the calls amid the sharp declines in stocks, precious metals analyst Suki Cooper said in a note. Still, barring near-term profit-taking, risks for prices remain to the upside amid expectations that the Federal Reserve will cut interest rates twice this year.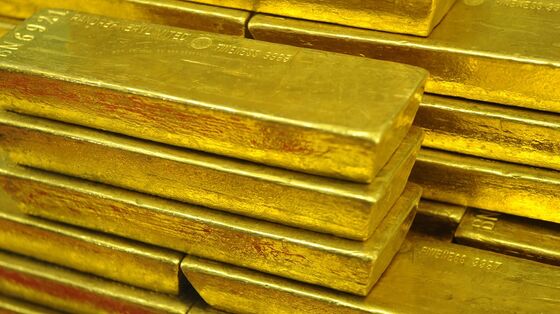 Gold is near a seven-year high on demand for havens as the virus spooks investors, with a spectacular collapse on Wall Street. Holdings in bullion-backed exchange-traded funds actually eased on Wednesday, although they've since rebounded to a record. There's always a risk during periods of turmoil that investors sell gold, something seen for a period in the 2008 financial crisis.
"We think that there will be opportunities to continue to add to long exposure," Cooper said in a Bloomberg TV interview. "You might see a little bit of a sell-off, so there might be better entry levels. But beyond that, we think that upside risks still linger for gold."
Read more:
Even Gold Retreats as Commodities Sink Deeper Into the Red
Spot gold fell 0.8% to $1,631.69 an ounce at 6:00 a.m. in London, and it's lower this week while global equities lost almost 9% in the four days to Thursday. This month, bullion's still up 2.6%, bringing gains in 2020 to more than 7%, and Goldman Sachs Group Inc. has said it may hit $1,800.
"Gold remains at the mercy of the broader asset-liquidation scenario," Stephen Innes, chief market strategist at AxiCorp Financial Services Pty, said in a note, citing margin-call pressures. "In the past, it's been short-lived, so eventually, this global shock should drive global interest rates down," aiding bullion, he said.