As Gasoline Nears $3 a Gallon, U.S. Economy Likely to Motor On
(Bloomberg) -- Consumer spending in the U.S. is probably well-equipped to ride out near-$3 gasoline that's made for the costliest driving in four years, though an extended and more pronounced increase could prove more challenging for the economy.
The price of regular-grade fuel has climbed 47 cents a gallon, or 19 percent, since the start of 2018, according to motoring group AAA. Pricier seasonal fuel blends and increased summer demand as families go on vacation have pushed the cost of gasoline to its highest since 2014. Nonetheless, the movement in prices from January through May is about in line with the average over past five years.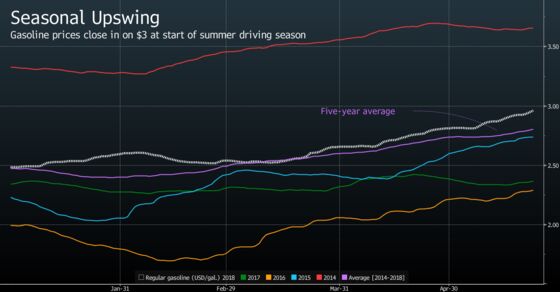 Prices typically peak each year in the traditional summer driving season kicked off by the upcoming Memorial Day weekend -- when about 37 million people are expected to be on the road, up almost 5 percent from 2017 -- and taper off through the rest of the year.
While bigger fuel bills leave Americans with less to spend on other goods and services, there's no sign yet the costlier fill-ups are altering overall shopping habits. Government figures last week showed that retail sales posted a broad-based advance in April, spurred by higher receipts at clothing stores, furniture merchants, building-materials outlets, non-store retailers and department-store chains. Analysts surveyed by Bloomberg News see economic growth rebounding to a 3.1 percent annualized pace in the second quarter and 3 percent in the following three months, following 2.3 percent in the January-March period.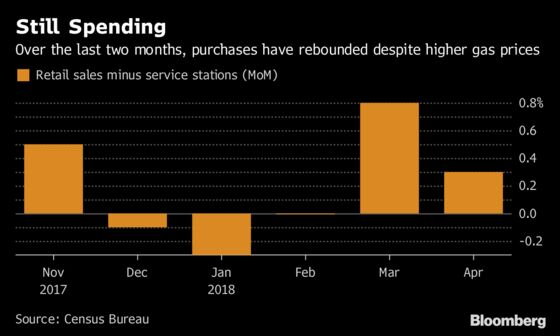 What's more, the last time gasoline exceeded $3 a gallon, in 2014, inflation-adjusted consumer spending actually kicked into a higher gear. During the first five months of that year, the nationwide average price rose from $3.33 to $3.67 a gallon. Rather than cutting back, households boosted inflation-adjusted outlays at a 3.5 percent annualized rate. As gasoline's seasonal effects faded and prices retreated, real purchases accelerated even more throughout the remainder of the year.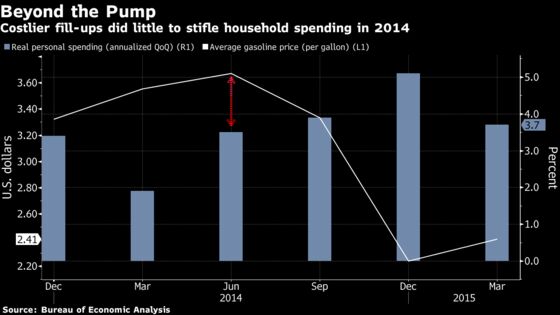 For consumers, it all boils down to how they perceive the increase, and most measures of sentiment have held up fairly well as gas-price gains mounted. Rather than dwell on the pinch to their wallets, Americans are instead responding favorably to tax cuts, the lowest unemployment rate since 2000 and a moderate wage pickup.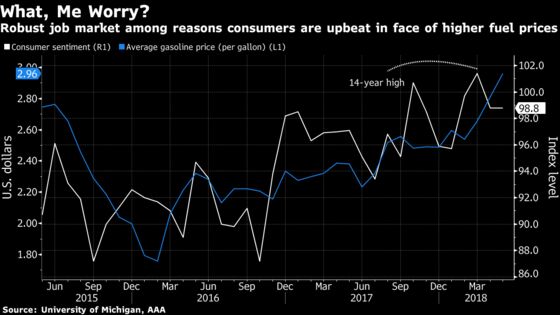 Still, higher fuel bills matter over time. Every one-cent change in retail gasoline prices translates into about $1 billion in annual energy spending, so a $1 increase in costs would be equivalent to a $100 billion tax increase, according to calculations by Joseph LaVorgna, chief economist for the Americas at Natixis SA.
What Our Economists Say
Consumers' incomes should be able to accommodate such a rise in prices without depleting non-energy spending, although this could erode some of the economic gains from recently enacted tax cuts. Analysts should keep an eye on discretionary spending categories for potential signs of strain.

-- Carl Riccadonna, Bloomberg Economics

Read more for the full report from Bloomberg Economics on this topic.
Fuel prices haven't gained nearly that much this year, and overall inflation is moving up only gradually. Disposable incomes -- earnings adjusted for taxes and price changes -- have been growing in 2018, though at a cooler pace the past two months. One thing to watch is whether the saving rate comes under pressure; it has picked up slightly since dropping in December to a 13-year low.