Argentine Bonds Back Where They Began After Wild Day for Traders
(Bloomberg) -- For Argentine bond investors, Tuesday has been a wild day.
Luis Caputo, who was a trader himself for years at JPMorgan and Deutsche Bank before running an asset manager in Buenos Aires and heading finances for President Mauricio Macri, was liked and respected by the market. Some even joked about the need to build a statue or rename an avenue after him. The Lionel Messi of the administration, according to others.
So when the "fixer," who negotiated with hedge fund titan Paul Singer to end a decade-long debt holdout battle, and the guy who convinced emerging-market debt investors to buy into a 100-year bond, resigned as central bank chief, the initial reaction was slight panic.
Bond yields, which had been tightening for days, swung higher in the immediate aftermath of the news. The idea that a vulnerable economy was about to lose one of its leaders didn't sit well with investors.
At least for a little while. In the end, traders calmed down and decided that the new leadership wasn't so bad: Guido Sandleris is viewed as a technocrat well versed in the ongoing talks with the International Monetary Fund.
Yields have ended up not too far from where they started: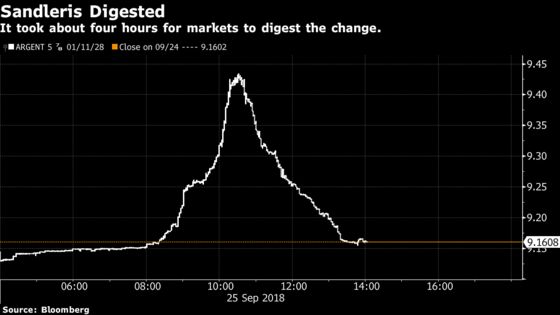 To be sure, the peso is down more than 3 percent and it still isn't clear what additional help Argentina can expect from the IMF. But in the words of Economy Minister Nicolas Dujovne, "the deal is imminent" and Sandleris is "brilliant."