Argentina Urges IMF to Suspend Surcharges on $45 Billion Loan
(Bloomberg) -- Discover what's driving the global economy and what it means for policy makers, businesses, investors and you with The New Economy Daily. Sign up here.
Argentina's President Alberto Fernandez urged the International Monetary Fund to suspend so-called surcharges applied by the multilateral lender to countries that use its credit lines extensively.
"I expect its suspension during the pandemic. I hope the Fund's board discuss this in its October meeting, and once and for all, eliminates them," Fernandez said in a joint statement with Spanish Prime Minister Pedro Sanchez in Madrid on Tuesday.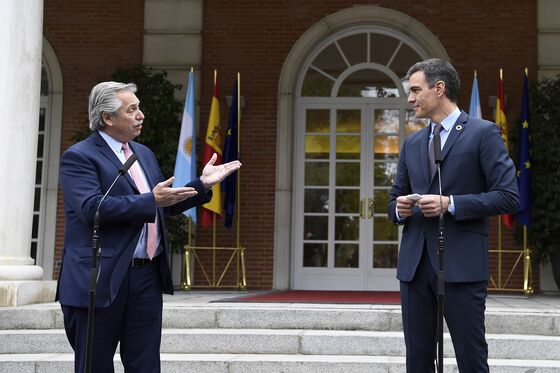 The request comes as Fernandez is visiting European allies to gain support for Argentina's bid to renegotiate its record $45 billion loan with the IMF. The government said it can't repay the credit, which stems from a failed 2018 program, and is seeking relief amid a tough economic outlook including worsening poverty and annual inflation running at more than 40%.
The Washington organization charges a rate of 200 basis points over outstanding loans above 187.5% of a country's quota, surging to 300 basis points if a credit remains above this percentage after three years, according to its website. Argentina's three-year stand-by arrangement, originally issued for $56 billion, represents more than 10 times the country's allowance with the Fund.
The governments of both Portugal and Spain have already expressed support to Argentina on Fernandez's request this week. An IMF spokesman declined to comment.
Without an agreement, Argentina would need to pay $4.8 billion in principal and interest to the IMF before the end of the year. The country also faces a $2.4 billion maturity with the Paris Club this month, which Fernandez is also trying to postpone.