Argentina Lifts Rates to World-High, Seeks IMF Aid to Save Peso
(Bloomberg) -- Argentina's currency crisis deepened on Thursday as an emergency interest-rate increase to 60 percent failed to stop jittery investors from pulling their money out of the country.
The currency extended losses after the bank raised its benchmark measure by 15 percentage points to a global high. The hike, the second this month, was the latest attempt by policy makers to defend a currency that's lost more than half its value this year. A day earlier, President Mauricio Macri shocked the nation with an appeal for quicker payouts from the International Monetary Fund, which said it's considering the request.
The peso was down about 12 percent against the dollar at 3:05 p.m. in Buenos Aires, after a daily decline that at one point approached 20 percent. It's the steepest loss since Macri devalued the currency right after taking office in December 2015 -- and it's reviving memories of the crash that led to debt default and social upheaval almost two decades ago.
Under Macri's market-friendly government Argentina appears to be plunging back into that kind of financial turmoil. Investors are running out of faith that the president, who came to power after more than a decade of budget-busting populism, can shore up the economy and bring Argentina's fiscal and trade deficits, and its inflation rate, to manageable levels.
Macri had promised a smooth, gradual fix. That option may be disappearing.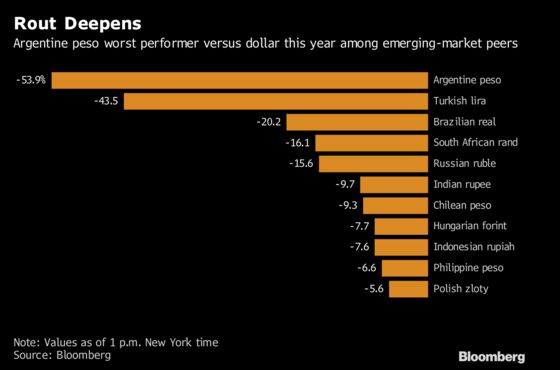 "The market isn't giving them a choice,'' said Edwin Gutierrez, the London-based head of emerging-market sovereign debt at Aberdeen Standard Investments. "It's forcing them to get it over with.''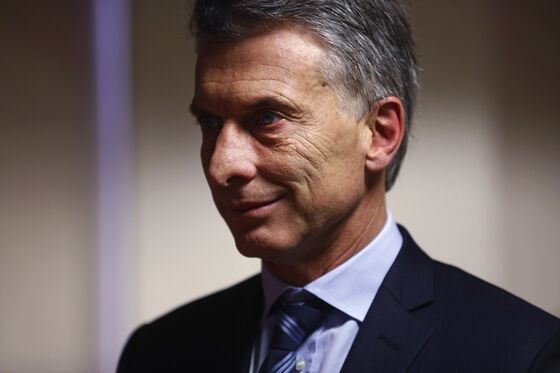 The unfolding crisis in Argentina sent tremors through other emerging markets, already shaken last month by a similar -- and ongoing -- crash in Turkey. The lira fell almost 3 percent on Thursday, and currencies from Mexico to South Africa also posted losses. Brazil's central bank intervened to shore up the real with additional swap auctions.
Argentina had some defenses in place, after securing the biggest IMF loan in history, a $50 billion credit package agreed in June.
The country also has relatively low levels of foreign-currency debt, after defaulting in 2001 and then enduring more than a decade virtually shut out of global finance. Including that episode, the South American nation has stiffed
creditors eight times in the two centuries since it gained independence from Spain.
But it's returned to the markets at a rapid clip under Macri, whose ballot victory was hailed by investors and U.S. policy-makers as a welcome swing of the pendulum, after two decades when the political left posted a series of wins in Latin America.
He's due to seek re-election in October next year. But the economic backdrop to that campaign is starting to look grim.
Inflation has stuck above 30 percent and is set to accelerate on a weaker peso. Even before the latest slump, the government was forecasting that the economy would contract 1 percent in 2018, a sharp deterioration from the 3 percent growth that was predicted at the start of this year.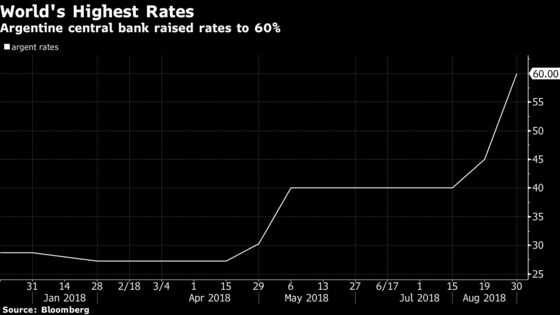 Argentina is headed for a "hard landing recession" in the next 12 months that will put Macri under pressure, Paul Greer, a money manager at Fidelity International in London, wrote in an email. Conditions for emerging markets are "unforgiving," he said.
The government's pre-crisis plan was to chip away at the budget deficit, lowering it from 6.5 percent of GDP to 5.1 percent this year, and 3.8 percent in 2019.
More drastic cuts are now likely. Treasury Minister Nicolas Dujovne told reporters late Wednesday that the government is working on a plan to chop its fiscal deficit more rapidly so that it can reduce borrowing. No details were provided.
The Fund says it's weighing Macri's surprise request, made in a televised address to the country on Wednesday, for disbursements to be speeded up.
"They said this IMF agreement will be ready in a few weeks,'' said Aberdeen's Gutierrez. "Do they have a few weeks? I'm not sure they do."