Ardern Targets Inequality as N.Z. Budget Shows Stronger Recovery
New Zealand projected faster economic growth and smaller deficits in its annual budget, allowing Prime Minister Jacinda Ardern to boost efforts to tackle inequality even as the government keeps a lid on debt.
Annual average growth will accelerate to 4.4% in 2023 from 2.9% this year, according to budget forecasts released Thursday in Wellington. Deficits will progressively decline from NZ$18.4 billion ($13.2 billion) next year until a return to surplus is achieved in 2027, the projections show.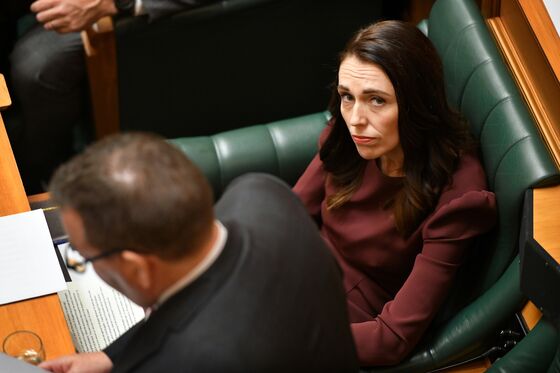 "The improved labor market outlook and strength in economic activity suggest that the long-term effects of the pandemic will not be as severe as previously thought," Finance Minister Grant Robertson said. "Budget 2021 takes a balanced approach to investing in areas and people where it is needed most, alongside careful fiscal management to pay down debt."
Ardern's deft handling of the pandemic, eliminating local transmission of Covid-19, has allowed the economy to recover sooner than expected. That's left the government's books in a much better position than initially feared, giving it scope to increase spending in targeted areas even as it reduces forecast borrowing.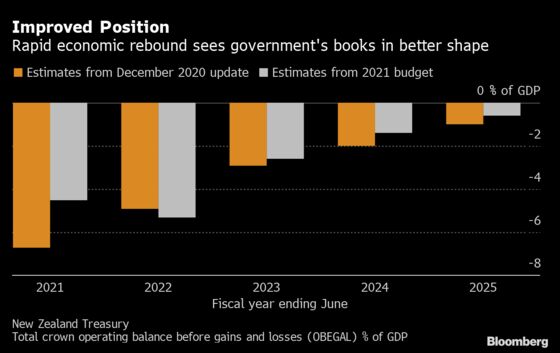 The government bond program was reduced by NZ$10 billion over the next four years and net debt is now seen peaking at 48% of gross domestic product in 2023 rather than the 52.6% projected less than six months ago.
There was muted market reaction to the budget, with the New Zealand dollar little changed at 71.73 U.S. cents at 4:05 p.m. in Wellington.
The center-piece of the budget is a boost to social welfare benefits, which the government said will lift as many as 33,000 children out of poverty. All benefit rates will increase by NZ$20 a week from July 1, with a second increase slated for April 1 next year.

Robertson said the rise in welfare payments is the biggest in more than a generation and "will have a stimulatory effect on the economy" as the extra money is spent.

Infrastructure investment has also been boosted to NZ$57.3 billion over five years, including NZ$11.6 billion on housing.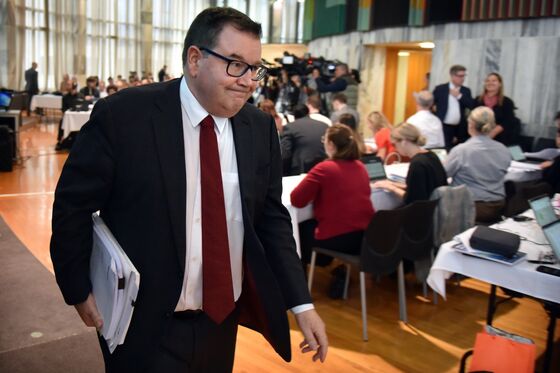 A housing shortage and record-low interest rates have sent property prices soaring, prompting the government to take a range of measures to cool the market.
In today's budget, the Treasury Department predicted house-price inflation will slow to just 0.9% by June next year from 17.3% this year as those measures take effect. This will have a dampening effect on the economic recovery and prolong "the period of monetary policy support needed to raise inflation and employment to target," it said.
Still, the economic outlook is much rosier than previously expected, with the unemployment rate projected to drop to 4.2% in 2024 from 4.7% currently. At the outset of the pandemic, the jobless rate was expected to jump into double digits; in fact it only rose as high as 5.2%.
The stronger labor market is supporting household consumption and tax revenues.
"The budget was underpinned by tax revenue forecasts that we found to be surprisingly conservative, given a similar economic outlook to us," said Michael Gordon, acting chief economist at Westpac Bank in Auckland. "We expect that revenue will continue to surprise to the upside, providing scope for more ambitious spending and debt reduction plans in future."
Ardern said the budget would create jobs and stimulus, while laying the foundations for a stronger recovery.
"We have one of the lowest unemployment rates in the OECD, growth has exceeded expectations and debt is lower than forecast," she said. "Coupled with our successful management of the virus, we are well placed to seize the opportunities the recovery now presents."
New Zealand has already opened quarantine-free travel corridors with Australia and the Cook Islands, and Treasury assumes "a significant opening of the border" from early 2022.
More money for health, education
Work to start on a social unemployment insurance

scheme

to support workers when they lose their job
NZ$300 million to accelerate investment in low-carbon technology
NZ$380 million to deliver homes for Maori
NZ$306 million for the redevelopment of Scott Base in Antarctica