Hong Kong Peg Architect Slams 'Naive' Bank of England Report
The Bank of England should apologize for a report which warned of risks resulting from fund outflows in the wake of Hong Kong's protests, according to one of the architects of the city's exchange rate system.
The U.K. central bank's Financial Stability Report, which cited $5 billion of portfolio outflows, did not account for inflows of short-term capital which offset the withdrawal in the city's balance of payments, said John Greenwood, chief economist at Invesco Ltd. and an architect of Hong Kong's dollar peg.
He added that the fact that the Hong Kong Monetary Authority had not stepped in to defend the currency peg shows there was no net outflow. Its last purchase of Hong Kong dollars took place in the spring, prior to the start of the protests.
"The Bank of England report was frankly misleading and they should apologize for it," Greenwood said at a press conference in Hong Kong Thursday. "That was so short-sighted and so naive as to be not worthy of a central bank."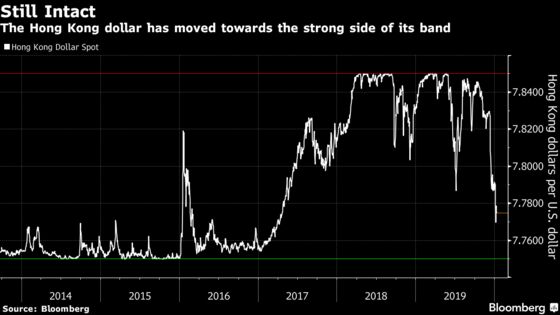 Greenwood is a member of HKMA's currency board sub-committee, which monitors and reports on the linked exchange rate system that pegs it against the U.S. dollar in a range of 7.75 to 7.85. The currency has surged this month to the strong side of its trading band, appreciating to the firmest level against the greenback since April 2017.
The Hong Kong dollar was little changed at 7.7674 against its U.S. counterpart at 8:15 a.m. local time on Friday morning.
The BOE and HKMA both declined to comment.
Hong Kong's economy has fallen into recession during seven months of pro-democracy demonstrations which have frequently led to violent clashes between police and protestors, with thousands of jobs expected to be lost. However, its financial markets have proven resilient in spite of volatility, with the Hang Seng Index close to erasing its losses during the period.
"The protests, and their impact on the real economy, highlight political risk as a key vulnerability in Hong Kong," the Bank of England said in its Financial Stability Report in December. "And these political tensions pose risks, given Hong Kong's position as a major financial center."
HKMA has previously disputed the BOE analysis, saying it didn't mean there had been an actual outflow of money from its banking system.
Howard Lee, a deputy chief executive at the monetary authority, said in a blog post on Dec. 30 that it had "not seen any significant fund outflow."