An Architect of QE Says BOE Shouldn't Use the Tool Frequently
(Bloomberg) -- One of the architects of the Bank of England's economic stimulus program said the tool should be used infrequently because of its "less than ideal" performance. 
Charlie Bean, the deputy governor for monetary policy when quantitative easing started in 2009, said the policy adds to inequalities and "should be a less significant part of the landscape."
Bean is the latest in a growing list of critics who are increasingly skeptical about the policy, which involves central banks buying bonds to keep a lid on market interest rates. Mervyn King, the BOE governor who introduced QE, is also a critic.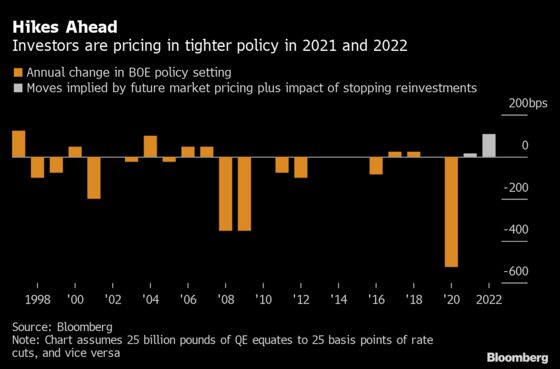 The world's major central banks used QE purchases to restore financial stability and help stimulate the economy after both the financial crisis a decade ago and during the pandemic. The BOE is due to finish a round of purchases next month that will push the value of its holdings to 895 billion pounds ($1.2 trillion). That includes 20 billion pounds of corporate bonds. 
The U.K. program expanded by 450 billion pounds during the pandemic and is due to finish this year. It has become increasingly controversial after it spurred a surge in asset prices while people on lower pay lost their jobs.
Bean, a member of the Office for Budget Responsibility, said: "There are distributional consequences to QE, which is why I think it is a less than ideal tool. Ideally, it should be a less-significant part of the landscape."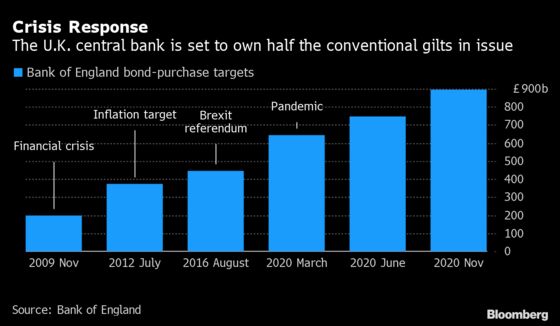 The BOE has argued that the impact of QE on different parts of the population is broadly neutral. While it increases wealth for holders of assets, it protects jobs, the BOE says.  
King put his name to a House of Lords report in July that accused the central bank of being "addicted" and said policy makers seemed to be using the tool as a "cure all … for almost any macroeconomic setback."
Last week, three members of the BOE policy committee voted to end the current purchases early. Governor Andrew Bailey says policy makers are weighing when to raise interest rates, noting that tighter monetary policy is needed to keep inflation from overheating. 
Bean has said that it is not for the BOE to consider the distributional effects of QE as inequality is beyond its remit of keeping inflation stable at 2%.
"If the government of the day is unhappy about the 'bad side effects' of the monetary policies necessary to maintain macroeconomic stability, then it seems more appropriate for them to take appropriate mitigating fiscal action instead," Bean said in a speech in 2017.