AMLO Is Sweeping Out Inflation Hawks in Overhaul of Central Bank
(Bloomberg) -- At first blush, it is easy to lump Banco de Mexico in the camp of hawkish developing-nation central banks that are acting swiftly to snuff out inflation. After all, on Thursday, Banxico will almost certainly hike benchmark interest rates for the second time in just two months.
But look closer and a different picture emerges: The conservative, stability-at-all-cost technocrats who've long held the levers inside Banxico are being forced to share power and forge consensus with a band of economists appointed by the country's populist president. The new members are broadly seen to be more tolerant of inflation in their bid to stoke growth.
The new governor taking over in January, former finance minister Arturo Herrera -- a long-time ally of President Andres Manuel Lopez Obrador -- hinted at his dovish leanings twice last month despite annual inflation running at about 6%, double the bank's target. He would join two other dovish members of the five-person board who disagreed with Banxico's rate increase in June, a split decision that took analysts by surprise.
"We are running the risk that Mexico is entering a new regime, a new environment in which inflation is more elevated," said Manuel Sanchez, a central bank board member from 2009 through 2016 known for his hawkish views. Some policy makers have "an apparent disposition to cutting, a bias toward always lowering the rate."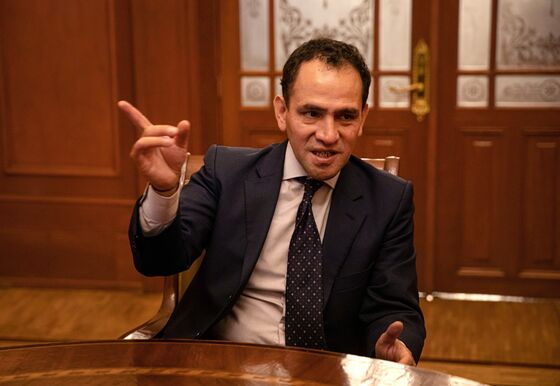 MEXICO REACT: July Inflation Shows Prices Still Under Pressure
The shift hasn't gone unnoticed in the bond market. Investors are betting that Banxico will let inflation run more than a percentage point over its 3% annual target over the next five years. And they're increasingly asking the government to sell them bonds that protect against rising prices. As they see it, the rate-increase cycle that policy makers began in late June -- a reversal from a cut just four months earlier -- will prove too little, too late.
It's a sea change for an institution long venerated as one of the most cautious monetary authorities in the developing world -- dominated by economists with a hawkish world view shaped by banking and currency crises in the 1980s and '90s. But it's in line with Lopez Obrador's pledge to look for a governor "with a social dimension" when he decided not to renew insider Alejandro Diaz de Leon for a second term at the top of Banxico.
"The shift that we're seeing is a board that puts a bit more weight on growth than just simply inflation and global financial conditions," said Gabriel Tenorio, a strategist at Bank of America Corp. in New York.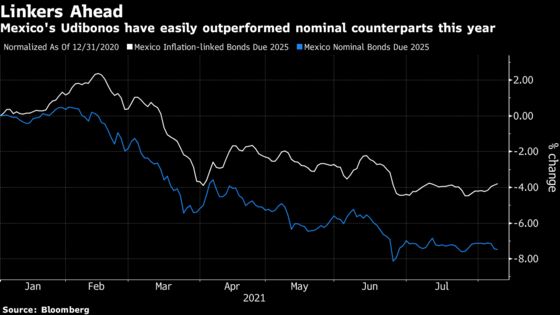 Mexico is part of a broader trend that's spreading mostly across the developed world, where policy makers have been suppressing interest rates while taking on more dovish, pro-growth stances amid the Covid-19 pandemic. Around the globe, a staggering $12 trillion of government debt carries negative nominal yields. And in the U.S., where interest rates are near zero and the Federal Reserve is buying $120 billion of bonds a month, yields hit a record low last month after accounting for inflation.
Things are trickier in emerging markets, though, where investors have punished countries they think have gone too far in tolerating inflation. Central bank Governor Sahap Kavcioglu has kept Turkey's benchmark interest rate unchanged at 19% since his appointment in March. In Brazil, policy makers raised interest rates a full percentage point this month and signaled another hike of the same magnitude next month.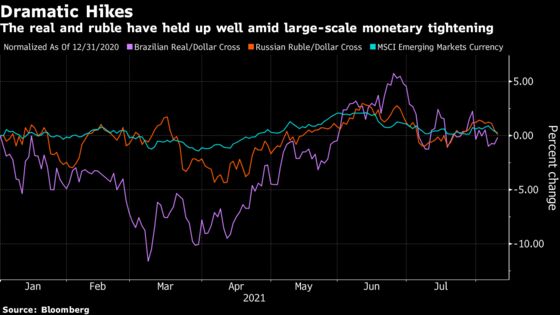 Mexico has been taking a slower approach to tightening. After hiking a quarter point in June, the central bank is likely to increase borrowing costs to 4.5% on Thursday. Economists surveyed by Citibanamex expect Mexico's benchmark to end the year at a below-inflation 5%.
Central bank officials themselves estimate a neutral rate would be 1.8% to 3.4% after subtracting inflation, so at least 7.6% when factoring in the current pace of price increases. Tenorio says he considers the neutral rate to be toward the lower part of that range.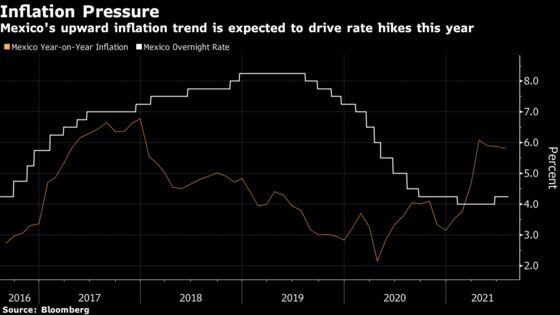 Advocates of a less hawkish stance say Mexico can endure slightly faster inflation if it spurs economic growth, particularly of the sort that would help the lowest-paid workers get a step up. They argue that while the bank's more conservative stance has helped prop up the currency and limit price increases, it's also exacerbated inequality and poverty.
In an interview with Bloomberg Television last month, Herrera said Mexico's recent run up in consumer prices seemed to be related to temporary factors. Lopez Obrador himself has veered between wanting lower rates to boost growth and pushing to control inflation.
The central bank's press office declined to comment.
The central bank hasn't completely abandoned its hawkish roots. There was the June rate hike, after all, and swap markets are pricing in almost 100 basis points in tightening by the end of the year.
The first board member appointed under Lopez Obrador, Jonathan Heath, surprised Banxico watchers by backing June's hike after showing looser monetary policy stances during his first two years in the position. Heath's reversal left the two other AMLO appointees, Gerardo Esquivel and Galia Borja, in the diverging minority, with Esquivel heavily criticizing the increase.
Read More: Banxico Board Member Calls June Rate Hike 'Erratic' And 'Abrupt'
Investors are seeking protection. Since the end of March, Mexico's inflation-linked bonds -- known as Udibonos -- have outperformed fixed-rate notes by more than 3 percentage points. As demand increases, officials will boost the percentage of linkers bonds to 20% of local offerings this quarter from 12% in the prior three months.
"The market still sees Banxico as a reluctant hiker," said Patrick Esteruelas, the head of emerging-market research at EMSO Asset Management in New York.
For now, all eyes are on Herrera for additional hints of what's to come for the central bank as the economy emerges from the deepest contraction in nearly a century. His arrival could tilt Banxico toward a more dovish approach by aligning with Esquivel and Borja.
"There's a huge judge out there -- which is financial markets," said Alonso Cervera, the chief Latin America economist at Credit Suisse Group AG. "If markets perceive that the central bank is being way too dovish when it shouldn't be, they're going to punish the peso and will punish rates and the yield curve will shift."