Americans Are Willing to Forgo a 56% Pay Raise for Best Job Perks
(Bloomberg) -- It's not all about the paycheck.
Americans are willing to give up "substantial" earnings in exchange for non-wage perks and benefits, according to a National Bureau of Economic Research working paper this month by researchers from Harvard Medical School, the Rand Corp. and the University of California at Los Angeles.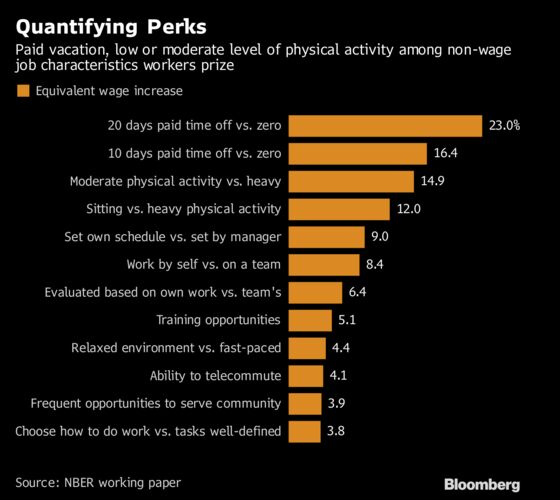 The study's survey data show switching from a job with the worst mix of non-wage characteristics -- such as no paid time off, heavy physical activity and inflexible hours -- to the best mix is equivalent to an overall 56.1 percent wage increase.
Almost 40 percent of respondents preferred a relatively lower-wage job with flexible hours and telecommuting over one without such perks, the research showed. Setting one's own schedule is equivalent to a 9 percent pay bump, while autonomy at work is worth 3.8 percent of the wage relative to a position with well-defined tasks.
With U.S. economists and policy makers focused on wage growth, the research sheds light on some of the less-measurable perks, benefits and conditions affecting job satisfaction, particularly the premium employees place on paid time off. While 10 days represents just 4 percent of a standard 250-day work year, respondents value such a break as worth 16.4 percent of wages, suggesting they associate paid vacation with more job security, according to the authors. The premium rises to 23 percent for a total of 20 days off.
A sustained increase in average hourly earnings -- which rose 2.8 percent in September from a year earlier -- has been the missing piece of the almost decade-long expansion. Meanwhile, benefits -- including paid time off, insurance, and sick leave -- have risen in recent years as a share of total compensation, Labor Department data show.
A number of businesses across the country have "implemented non-wage strategies" such as signing bonuses, flexible schedules, and more vacation to lure and retain workers, the Federal Reserve noted in its recent Beige Book survey of regional economic conditions. Wage growth was mostly characterized as "modest or moderate."