America's Job Market Is Defying Employer Labor Shortage Reports
(Bloomberg) -- Interpreting job market anecdotes in the Federal Reserve's Beige Book survey of regional businesses is more art than science -- and it's the kind of art that demands a skeptical eye.
Employment was still tiptoeing back from the depths of the Great Recession when reports of worker shortages began to surface in the study, the latest edition of which comes out at 2 p.m. Wednesday in Washington.
"Finding skilled workers continued to be a major concern," companies in the Richmond region reported in November 2011, when the unemployment rate was 8.6 percent -- more than double the current level. A North Carolina manufacturer reported "having a tough time hiring good people."
Employers have since managed to hire another 18 million workers, underscoring the disconnect between the anecdotes and overall labor availability. Companies unsurprisingly compare present conditions with their recent experience, and relative to the worst years of the recession, workers were difficult to find in 2011 -- but not impossible. What's happening in one industry or region may fail to reflect the broader reality.
That's why Fed officials distinguish between anecdotes and data, and they didn't say the job market was hot back in 2011. But today, data are sending conflicting signals about worker availability: the unemployment rate is very low, but applicants are coming back in from the labor market's sidelines.
At junctures like this one, officials would ideally turn to their regional contacts for help in understanding what's happening. The trouble is judging what hiring complaints really mean.
"Businesses love to say we've got shortages -- it's this historic worker shortage. Well, show me the money," Minneapolis Fed President Neel Kashkari said last year, an often-repeated refrain of his. Kashkari wants to see faster wage gains as a sign that businesses are putting their money toward the issue, and he said on Tuesday he still sees labor market slack.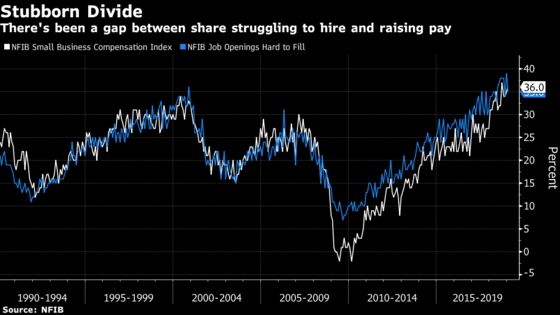 The Beige Book, published eight times a year, isn't the only window into the employer psyche. Surveys like the National Federation of Independent Business small business optimism index also track how hard jobs are to fill. Such gauges have been suggesting worker shortages for some time -- but there's an interesting disconnect there as well.
While employers widely report that they can't find workers to fill open jobs, a stubborn gap remains between the share that cite trouble hiring and the share hiking pay. That may be on the cusp of closing, but it's too early to judge.
Importantly, if employers can't find workers, one might expect hiring to slow. Instead, payrolls grew by 304,000 in January, the most in almost a year, bringing the 12-month average to 234,000. The February report is set to come out Friday, and economists project around a 180,000 gain. For context, Fed officials for years expected monthly hiring to slow to a 50,000 to 110,000 pace.
So how can anyone get a handle on what's going on? Nick Bunker at hiring site Indeed.com suggests looking at the prime-age employment rate. It's a more comprehensive alternative to the unemployment rate, which fails to account for people who have dropped out of the labor market but who might be drawn back. And while it's recovered to 2008 levels, it remains below its all-time high.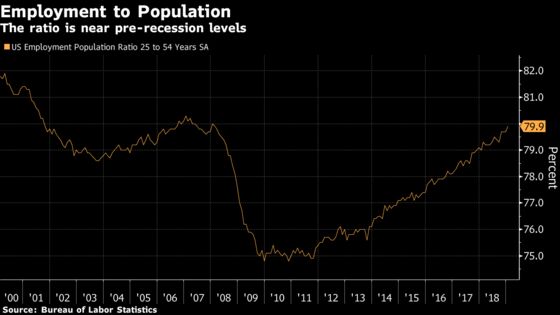 Bunker says he's also looking for slightly higher pay gains as a sign that the job market is chugging along at full capacity. And for that, Beige Book anecdotes are useful.
"They're not the main narrative," Bunker said. "They're important for color -- for employer perceptions of how readily they're going to increase wages. Understanding, for lack of a better word, the reaction function to labor market tightness."