Male Shoppers Are More Likely to Check Prices on Amazon for a Deal 
(Bloomberg) -- Throw out the stereotypes: Women shoppers aren't the only ones who want a good deal.
Male customers in the U.S. are now more likely than women to check prices on Amazon.com before deciding if they're going to make a purchase, according to a new study from First Insight Inc. More than two thirds of male respondents said they do price comparisons on the online retailer before pulling out their wallets, up 15 percentage points from the prior year's survey.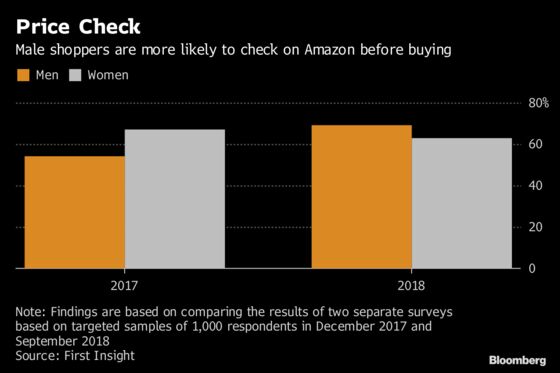 First Insight, a company that helps retailers choose the right price for their products, also found men outpace women in terms of shopping frequency, both in store and online. Male shoppers have more options in apparel these days and retailers are getting better at advertising toward them, according to Jim Shea, First Insight's chief commercial officer.
Before, the assumption was that men "wanted to get into a store, buy the product quickly and get out. They weren't looking for the deal as much," Shea said, noting that that's changing now. "They're more aware of prices because they're going in the stores more often. They're going online more often and looking for the better deal."