After Record Year, Samurai Loans Get More Love in Asia
(Bloomberg) -- From Mumbai to Singapore, borrowers will continue turning to yen loans this year, after the total volume of such facilities from Japan's deposit-rich lenders to firms throughout Asia Pacific surged to a record in 2018.
That's the view of top arrangers of Samurai syndicated loans, who say more borrowers will take advantage of Japan's near-record low interest rates to diversify their funding base.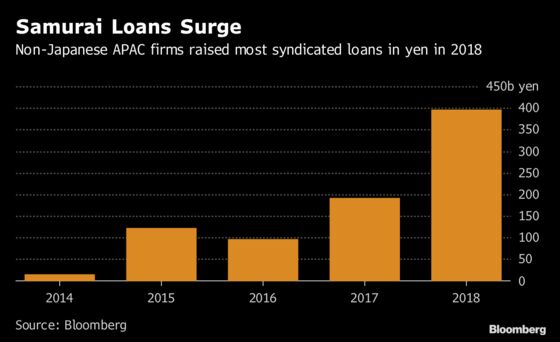 Indian, Indonesian and Singaporean companies will likely continue to turn to Samurai loans in 2019, according to Junko Ando, Tokyo-based senior vice president of the syndicated finance department at Mizuho Bank Ltd.
Stable basis swap costs make the pricing over funding in dollars attractive, while there is also savings from lower withholding tax payments due to lower interest rates in Japan, she said.
Japanese regional lenders provide "an attractive pool of liquidity" for companies to diversify funding without needing to do other businesses with them, said Siong Ooi, Singapore-based Asia Pacific co-head of debt capital markets loans & bonds at MUFG Bank Ltd.
Stronger, defensive credits with infrastructure-like characteristics and stable cash flows will also have access to longer tenors: Ooi
"Japanese bank liquidity is very selective and generally available only for investment-grade borrowers or quasi-sovereign names," said Jun Palanca, Singapore-based deputy general manager and Asia head of loan distribution and structured credit distribution at Sumitomo Mitsui Banking Corp.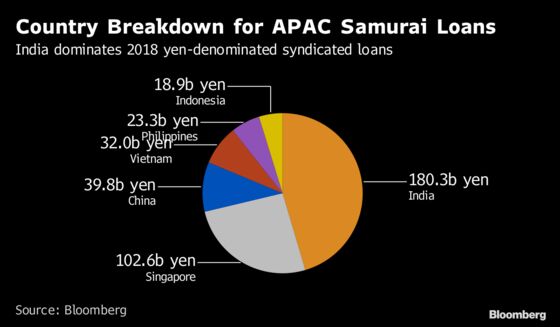 Indian companies raised the most Samurai loans in 2018 with 180.3 billion yen ($1.66 billion), 45 percent of the volume in Asia.
State-owned power supplier NTPC Ltd. has picked three Japanese banks to arrange an 11-year yen loan, barely nine months after raising a same-tenor Samurai facility.
Power Finance Corp. and Housing Development Finance Corp. are also seeking new funds from Japan.
The Reserve Bank of India's relaxation on External Commercial Borrowings framework has prompted more Indian borrowers to tap Japanese liquidity, according to Mizuho's Ando
"A country like India where it's lower investment grade, but investment grade nonetheless, we are starting to see some capacity constraints," said MUFG's Ooi. However, there will continue to be Japanese demand for credits from Indian public sector companies that are effectively government risk, as well as very strong blue chip names.