After $600 Million Hit, India Oil Refiners May Face Further Pain
(Bloomberg) -- The worst may not be over for India's state-run oil refiners.
The request by the central government on Thursday that they absorb a portion of sweeping fuel price cuts is raising speculation by analysts at Goldman Sachs Group Inc., Citigroup Inc. and Jefferies Group LLC that price controls may be reintroduced or further reductions will be demanded.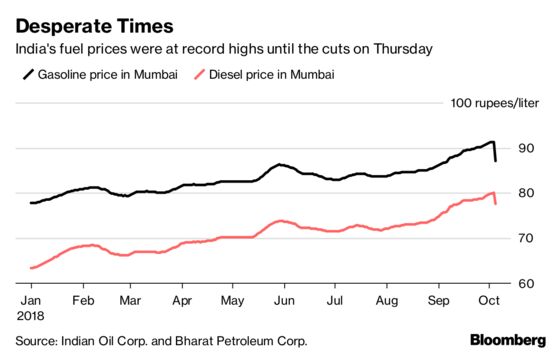 The move comes amid public anger over rising pump prices and in the run up to elections in some key provinces later this year and a national ballot in 2019, when Prime Minister Narendra Modi is set to seek re-election. Fuel prices in India before Thursday's announcement had hit record highs amid rising oil and a sharp depreciation of the rupee.
The imposition of price controls is an "unequivocal negative" that underscores "high political risk" associated with state-owned enterprises, Citigroup's Saurabh Handa wrote in a note, while Goldman called it a "step back towards regulatory regime."
The request that the companies absorb 1 rupee per liter for gasoline and diesel may lower the combined pretax profit of Bharat Petroleum Corp., Hindustan Petroleum Corp. and Indian Oil Corp. by about 45 billion rupees ($611 million) for the remaining two quarters of the year through March, according to people with knowledge of the development.
"Earnings will remain at risk as further increases in the subsidy burden can't be ruled out, given rising oil prices, a depreciating rupee and next year's general elections," Kunal Agrawal, a Bloomberg Intelligence, analyst said in a note.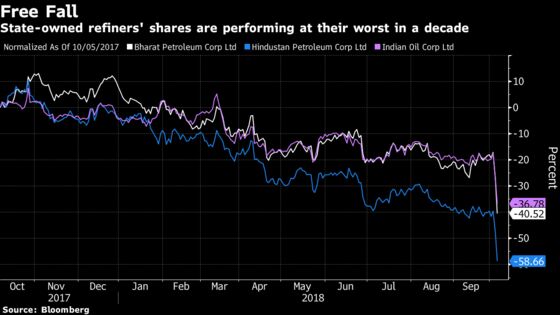 While the measures, which also include a cut in excise duties, cooled pump prices, analysts worry the coming elections may pressure the government to do more. Retail prices of gasoline and diesel in India are still 3 to 4 rupees a liter lower than they should be given global spot prices and the rupee-dollar exchange rate, Jefferies analysts led by Somshankar Sinha said in a report.
"They would need to rise again soon, therefore, nullifying the impact of the measures," Sinha said. "Like in the past, it is a slippery slope too, especially if crude spikes further."
Brent crude, the international benchmark, has gained more than 20 percent since mid-August and is trading near four-year highs due to concern over supply losses from Venezuela and Iran. The rupee, meanwhile, has fallen to record lows in recent weeks.
In 2002, the Bharatiya Janata Party's Atal Bihari Vajpayee-led administration freed prices of both petrol and diesel only to reverse the decision two years later when crude prices started rising. The party lost the 2004 election and spent 10 years in opposition before coming back to power in in May 2014.