African Union May Ask Wealthy Nations for Commercial-Debt Relief
(Bloomberg) -- The African Union, whose members face economic disaster from coronavirus pandemic, may seek international support for a plan financed by rich nations to let countries on the continent postpone bond payments.
The International Monetary Fund and some members of the Group of 20 leading economies have been supportive of the idea, according to, Ngozi Okonjo-Iweala, one of the AU's special envoys to mobilize international support for the continent's response to the pandemic.
Though a final proposal is yet to be drafted, the idea would involve a special-purpose vehicle financed by the special drawings rights of rich countries at the IMF, Okonjo-Iweala said in a phone interview Thursday. The SDRs are potential claims on the freely usable currencies of IMF members, or the equivalent of the lender's reserves.
The mechanism, which could save African countries as much as $15 billion per year in debt-service costs, was discussed with some G20 members by the AU envoys, some African finance ministers and officials of the United Nations Economic Commission for Africa at last week's IMF spring meetings.
"We are hoping that richer countries that have SDRs that they are not using could pool them for the benefit of African countries," said Okonjo-Iweala, a former finance minister of Nigeria, the continent's biggest economy. "Nobody has signed on yet, but this is an idea that we are floating."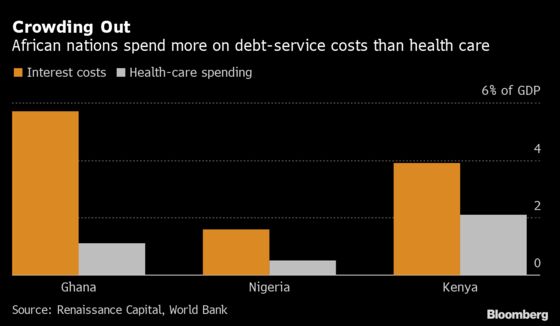 The G20 earlier this month heeded calls from African finance ministers to grant a debt waiver of about $20 billion until the end of the year, and asked private creditors to step up. However, the specter of complex legal negotiations and potential lawsuits from bondholders would make any waiver on commercial debt very difficult. Even before the pandemic, many African countries were struggling with a rising debt burden stemming from investors' appetite for their yields.
Okonjo-Iweala said the SPV will give immediate fiscal room for African countries to face the coronavirus pandemic while addressing bondholders' payment concerns. The continent's big economies, including South Africa, Nigeria and Angola, will be part in the plan, which will be voluntary.
"African countries want to act very responsibly," she said. "None of them are talking of default or anything like that, they want to make sure that their sovereign ratings and market access are maintained."
The Institute of International Finance estimates that the world's poorest nations -- many of whom are in Africa -- have some $140 billion in general government debt-service obligations due through the end of the year, including $10 billion in foreign currency. That includes private and public creditors, domestic and foreign debt, short term and long-term obligations.
Crashing commodity prices and strict lockdowns that halted economic activity and trade are projected to sink sub-Saharan Africa into its first recession in 25 years this year. The pandemic could kill 300,000 in the continent even with assertive government measures to limit social interactions, according to the UN.
U.S. Treasury Secretary Steven Mnuchin earlier this month blocked an IMF request to increase special drawing rights allocation, as it it did in the 2008 crisis.