Pig Virus Found in German Farms in Setback for Exports
Germany confirmed cases of African swine fever at two pig farms, the first time the disease has spread from wild boars in the country and a potential further blow to exports from Europe's top producer.
ASF -- which is deadly to pigs -- was found in Brandenburg near the Polish border. About 200 animals will be culled at two locations after a laboratory confirmed the cases, Brandenburg's consumer protection ministry said. Veterinary authorities are on site to try to contain the outbreak.
The disease remains a significant distance from the northwest, where the country's pig farming is concentrated. But it could prove a setback for Germany's bid to revive pork exports. Numerous importers shunned its meat after an outbreak began in wild boar last year, leaving supply piling up in Europe. While some have since reopened, German pork remains shut out of China, the world's top consumer.
It's difficult to gauge how buyers may react to the farm reports, but "it's no question that it's not helpful," said Tim Koch, a livestock analyst at agricultural market information provider AMI in Bonn. Trade with countries that have agreed only regional limits on German pork is still possible, although further restrictions from importers can't be ruled out, a spokeswoman for Germany's agriculture ministry said by email.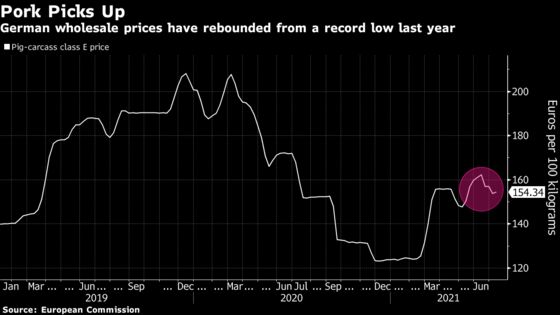 Traders might seek discounts on German supply, said Justin Sherrard, an animal-protein strategist at Rabobank. And some countries already limiting purchases may delay their return, said Udo Hemmerling, deputy secretary general at farmers union DBV.
Germany has found more than 1,200 ASF cases in wild boar in Brandenburg since last fall. The nearby state of Saxony has also reported about 300 cases. The outbreak appears unlikely to end soon, with infections still abundant in neighboring Poland.
Other large pork producers in Europe including Denmark and Spain remain free of the disease. The two affected operations in Germany are rather small, with one home to two pigs, the Brandenburg agency said. Producers group ISN called for calm and said the new cases won't significantly change the situation for farmers.
"It is now important that we quickly find the cause of the entry into the pig population so that we know which route the virus took," Consumer Protection Minister Ursula Nonnemacher said.
The virus has upended pork producers worldwide in recent years. China is rebuilding its herd after millions of pigs were lost in outbreaks, which triggered a meat shortfall and boosted global prices. Other countries in Asia and eastern Europe continue to battle the disease.
German pig-carcass prices have picked up from record lows set in 2020 as it was able to sell some of its excess supply within the European Union. A backlog of livestock due to coronavirus outbreaks at abattoirs has also abated.