The British Economy Needs an England World Cup Run
(Bloomberg) -- England's World Cup team have some extra pressure to worry about. The strength of the U.K. economy may lay in their hands.
Retailers expect the soccer tournament to bring the biggest boost to their sales over the next year, particularly through electronics and alcohol, according to a Bank of England survey. Consumers have come under strain since the U.K.'s vote to leave the European Union, and a successful run by the English team could provide a pick-me-up for stores and pubs.
Noting a recent bounce-back in consumer spending, BOE Chief Economist Andy Haldane said Thursday that "without wishing to tempt fate, England's recent sporting success on the football field (and cricket pitch) has probably added to that feel-good factor among England-supporting consumers."
"Of course, there are always some data -- and indeed, some football teams -- which disappoint to the downside," he added.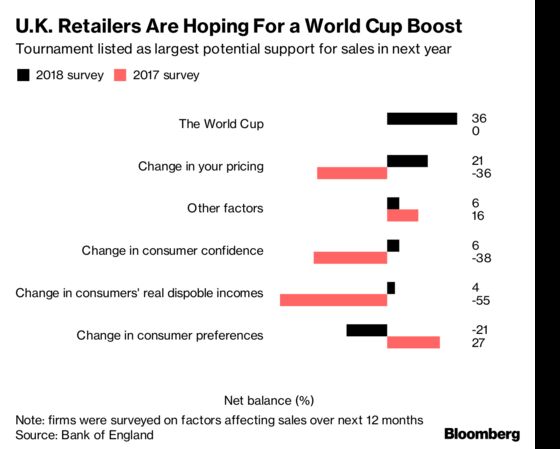 England plays Belgium Thursday in a match that will determine both sides' opponents in the last 16. England hasn't progressed beyond that stage since 2006, and last made the semi-finals in 1990.
British retailers have struggled as households feel the squeeze from sluggish wage growth and accelerating inflation in the wake of the Brexit vote. The owner of the U.K.'s John Lewis department stores and Waitrose supermarkets said this week that its first-half profit will be close to zero as Brexit undermines consumer confidence and price competition with other U.K. retailers mounts.