A Push Toward a Steady Chinese Yuan Is Expected to Help the Euro
(Bloomberg) -- A steady yuan will be just what the euro needs as it tries to shake off regional economic weakness, according to analysts.
Europe's common currency advanced in tandem with the yuan this week after the U.S. asked China to keep their exchange rate "stable" amid growing signs the world's two biggest economies are making progress in trade negotiations. A successful resolution could support the euro given the close links between Europe and China, as well as via any boost to risk sentiment, analysts said.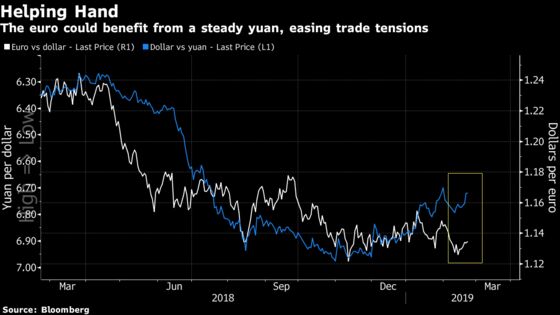 Yet, doubts remain on whether this would be enough to turn the euro's fast-fading fortunes. In December, currency strategists were convinced that 2019 would be the year of the euro. Signs of slowing growth in the euro area, however, saw the shared currency snap two months of gains in January.
Italy is already in recession, while Germany, the region's biggest economy, is teetering on the brink. European Central Bank President Mario Draghi has said that persistent uncertainties about tariffs and the slowdown in China were directly impacting the outlook for policy. For some analysts, all these factors overshadow any progress in trade talks.
Here are some of their views:
"We favor a stronger euro and weaker U.S. dollar outcome if there is a significant trade deal" between China and the U.S., said Lee Hardman, currency strategist at MUFG
"We would view that as supportive for euro-zone economy as well which has been hit by the slowdown in external demand especially from China over the past year"
"The best-case scenario for the renminbi would be a trade deal and growth stabilizing in China, while the Fed keeps shifting to a more dovish policy stance as growth momentum slows in the U.S."
Forecast euro-dollar trough at about $1.10-$1.15 before advancing toward $1.20 later in 2019 as evidence of a U.S. slowdown grows
Commerzbank (Market Sentiment)
The idea that yuan's stability would support euro is "a far-fetched story" as it hasn't been discussed how China should prevent further depreciation, according to currency strategist Esther Reichelt
Initial positive news on trade could support the euro but "Brexit is a much bigger worry right now, so I fear that it wouldn't be the big game-changer"
The euro could benefit, "but mostly due to improved market sentiment and less via the yuan-channel"
The state of the euro-area economy "would most likely deteriorate if we saw a further escalation of the trade conflict"
ABN Amro (Lower Haven Demand)
A deal eases market uncertainty "and then there will be lower demand for safe havens and the dollar," in turn helping the euro, said Georgette Boele, a senior currency strategist at ABN Amro
"Better investor sentiment will give room for weaker U.S. data and a less hawkish Fed to weigh on the dollar"
Beyond this Europe's domestic woes will take over; ABN Amro predicts the euro at $1.10 for the first two quarters this year
Sees euro-area weakness lingering for the first half of the year. ABN Amro has pushed out its forecast for the first ECB rate hike to December 2020 from March 2020
"If there is a trade deal agreement, it could be modestly positive for euro-dollar, but no fireworks," said Petr Krpata, chief EMEA currency and rates strategist at ING
In the likely subsequent risk-on environment, we would expect the euro to lag the gains of higher-yielding G-10 currencies and emerging-market currencies as a whole as European growth remains soft
Predicts euro to trade around $1.12 in the one- to three-month horizon