A Kink in the Phillips Curve? Wall Street Economists Are Divided
(Bloomberg) -- After a decade-long drought, America's employers are making it rain.
Hourly earnings moved above 3 percent in the year through October for the first time since 2009, last week's jobs report showed, and the employment cost index is perking up. Analysts say the pickup will last because low unemployment should theoretically spur higher salaries and because anecdotal evidence suggests companies are starting to pay up. That leads to a key question: Will companies hike prices more rapidly to cover their rising labor costs?
(You're reading Bloomberg News' weekly economic research roundup.)
Goldman Sachs Group Inc. comes down on one side, Bank of America Corp. on the other, and we summarize their reasoning and other research on the topic below. We also provide links to revealing studies from academia, think tanks and central banks published over the past week.
Status: Boomy?
Jan Hatzius at Goldman Sachs is calling last week's jobs report "boomy" and saying the tick up in wages suggests the relationship between low unemployment and higher paychecks "is indeed steeper beyond full employment."
"Further increases in wage growth to the 3.25 to 3.5 percent range are likely over the next year," Hatzius writes, noting that the move higher could matter for the Federal Reserve, which is trying to hold price gains steady around 2 percent. Joblessness is super low, and "our analysis of city-level data suggests that such extreme readings typically push inflation notably, not just slightly, higher."
Bank of America economists agree that wages are headed up, noting that the Fed's Beige Book report -- a collection of business anecdotes -- is replete with wage and bottleneck references.
While higher pay should lead to higher prices, Michelle Meyer's team doesn't buy the idea that inflation will suddenly take off once the job market gets sufficiently tight. There's "some, but not strong" evidence of a so-called kink in the Phillips curve, they say. Their prior research suggests that the evolution of inflation expectations matters more, and those remain well anchored and low. Their conclusion is that "a strong cyclically driven breakout in inflation is unlikely."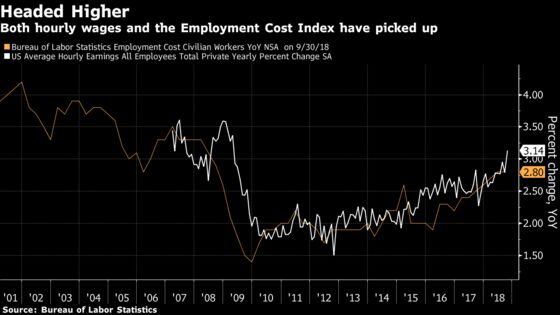 The idea that wages and prices might go from a gradual climb to an all-out sprint at some level of labor market tightness isn't a new one, and it remains a topic of debate.
Researchers at the Boston Fed have found that "missing disinflation" in the 2010's can be explained by a nonlinear Phillips curve, and a Fed board paper last year found that when local labor markets get tight, the slope of the unemployment-inflation relationship got much steeper. But Fed officials including Chairman Jerome Powell have sounded skeptical that stronger wage gains will necessarily beget higher inflation at a national level.
Other research worth a read...
Parental preference for boys skews gender ratios in some nations, and this paper takes a look at government policies that attempt to discourage families from avoiding having girls. Bans on the use of sex-selection technology might actually worsen the status for girls, it finds, and legal reforms aimed at improving gender equity might be a more fruitful approach.
Facebook's ban on ads that linked to fake news sites cut sharing of fake news articles on the platform by 75 percent relative to Twitter, based on this analysis by researchers at Occidental College and the Massachusetts Institute of Technology. The researchers focused on anti-vaccination ads.
Looking at German data spanning 1985 to 2014, researchers find that wages in large cities are higher both because they attract workers with a lot of ability and because those workers are matched into better jobs. That trend magnifies regional inequalities while leading to better efficiency for the economy as a whole.